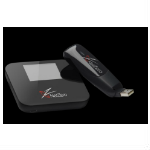 Both NetZero and FreedomPop began offering modest, free mobile broadband offers in 2012, utilizing Clearwire's WiMAX network. NetZero featured 200 MB of free data usage with their free offer, and FreedomPop offered more, with a free 500 MB service (FreedomPop users could gain additional monthly bandwidth by referring friends through social media). Both companies recently announced additional network options for their services.
United Online, NetZero's parent company, announced an expansion of the offer during their latest quarterly earnings report. The free service will now also tap Verizon's nationwide 3G network and Sprint's growing 4G LTE network, dramatically increasing the footprint of the MVNO.
"We have signed a three-year agreement with Verizon to offer the NetZero Mobile Broadband service on Verizon's nationwide 3G network. When the service is launched, we expect NetZero Mobile Broadband will be available in approximately 500 markets and cover more than 300 million people, or approximately 95% of the entire U.S. population. Also, we have signed a five-year agreement with Sprint to offer the NetZero Mobile Broadband service via Sprint's 4G LTE and 3G networks. This agreement will allow us to expand our NetZero Mobile Broadband coverage to a projected 200 million people in 2014 on the Sprint 4G LTE network," said Mark Goldston, Chairman, President and Chief Executive Officer of United Online in a press release.
FreedomPop announced they will also use Sprint's 4G LTE network to expand their footprint. "With LTE network coverage reaching critical mass, we are now able to offer our customers the fastest 4G service for free," said Stephen Stokols, FreedomPop's CEO in a press release. "We're taking our free Internet model to the next level, giving customers unprecedented access to the best mobile network performance available."
Both company's strategy is to entice free users to upgrade to their paid plans, which include a $10/month plan for 500 MB and a $50/month plan for 4 GB for NetZero. FreedomPop offers a $20/month plan for 2GB and a $29/month plan for 4GB. NetZero plans are for mobile data only using USB modems for laptops and/or MiFi  for Wi-Fi connected devices. They currently don't offer a smartphone option.
FreedomPop offers a variety of connectivity options in addition to mobile broadband plans similar to NetZero, including a fixed wireless plan for home broadband and a 'free' smartphone offer which is coming soon. They also market a 'sleeve' for the iPod touch that say turns an iPod into an iPhone.
While Verizon's 3G network offers considerably slower mobile broadband speeds than the 4G options, it should offer growing capacity and improving performance for NetZero customers. Verizon is successfully moving more and more mobile broadband traffic onto their 4G LTE network, which now carries 57% of their total wireless data traffic.