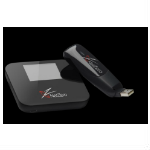 NetZero built its business as a free alternative to AOL and other dial-up Internet services. They are now extending that model by offering a free mobile broadband offer, NetZero 4G Mobile Broadband.
The service is powered through Clearwire's legacy 4G WiMAX service. NetZero will offer a "free" service, of up to 200 MB in data traffic per month. Additional capacity can be purchased, ranging from $10/month for 500 MB to $50/month for 5 GB. All customers must purchase a $50 USB modem to gain access. NetZero is also selling a mobile hotspot for $100, allowing up to 8 Wi-Fi enabled devices.
"Our service gives customers the freedom to take the Internet anywhere in our coverage area, without being tied to public Wi-Fi service or having to purchase higher-cost, sometimes multi-year plans offered by other mobile broadband providers. With NetZero 4G Mobile Broadband, there are no contracts or commitments, and our customers can even try our service for up to one year for free," said Mark R. Goldston, chairman, president and CEO of United Online, NetZero's parent company.
The service was launched yesterday in about 80 markets. Don't expect significant expansion, since NetZero 4G Mobile Broadband uses Clearwire's WiMAX network, which won't be expanded. Clearwire is making the shift to LTE for future 4G upgrades. It's not clear if NetZero will migrate to Clearwire's LTE network at some point in the future.
United Online is able to offer free services like this because Internet access is really not their main business. They also operate FTD.com, Classmates.com, and MyPoints.com, which generate most of their consolidated revenues.