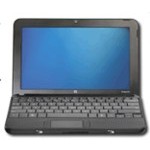 Netbooks have quickly become a popular competitive weapon among 3g wireless operators. Verizon even took the battle to wireline, recently offering a free netbook promotion for new triple play subscribers. Among wireless carriers, netbooks are leveling the playing field for competing 3g data plans. Unlike smartphones, which offer exclusivity, netbooks are universally available across all carriers. That leaves price and/or subsidization as the primary tactic for netbooks, which carriers hope will help drive wireless data plans and the important revenue they generate.
The latest salvo comes from Sprint.  jkOnTheRun reveals Sprint's new 99 cents netbook offer, which provides a Compaq netbook through Best Buy for 99 cents. The offer requires a two year mobile broadband activation with Sprint. Verizon and AT&T offer the same laptop for $199 with a two year activation.
I suspect netbooks will continue to be seen as a valuable promotion tool. Verizon's experiment may lead to carriers of all types, wireline broadband included, to look to netbook promotions to drive broadband sales.  Smaller carriers are exploring the trend as well. NTCA, a trade association representing rural broadband carriers, has launched a Rural PC Project, in partnership with CSSA and Microsoft. The project aims to increase PC penetration among rural households, and features netbooks as well. Wireline carriers stand to gain from a growing netbook trend. After all, beyond 3g access, netbooks can also provide Wi-Fi access, with WiMAX on the way, offering a decent value add for wireline broadband carriers.