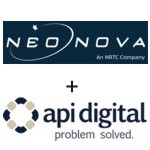 North Carolina based NeoNova announced the acquisition of Alabama based API Digital Services today. The addition of API Digital will bring 24x7x365 NOC services to NeoNova, a provider of network management and professional services to the rural ISP community.
API Digital was founded in 1999 and provides a range of network communications and managed IT services. In addition to their NOC, API Digital also will enhance NeoNova's call center capabilities, according to a press release. API employs 60 people and serves approximately 100 customers, supporting hundreds of thousands of end users across the country and internationally.
"API Digital's services, such as their network operations center and their call center, will add a new dimension to our capabilities, and we're really excited to have them join us," said NeoNova CEO Jason McGinnis in the press release.
Among other attributes, both API Digital's NOC and expanded call center were attractive to NeoNova.
"It provides a great new service in API's excellent 24x7x365 NOC (network operations center), which will allow us to offer much more in-depth network monitoring service, while also expanding our existing capabilities," Bob Buchko, PhD, director of marketing at NeoNova tells Telecompetitor in an interview. "With this acquisition, we gain the ability to provide both tier 1 and tier 2 support along with customer care services such as billing and sales support."
API Digital will become a wholly owned subsidiary of NeoNova, operating independently for now. "Over time, we will fully integrate the companies to provide seamless service and support across the entire organization," said Buchko. NeoNova and API Digital customers will not experience any immediate changes to their services or billing relationships, the companies announced.
NeoNova, a subsidiary of NRTC, currently serves 230 affiliates, across 44 states, reaching more than one million end customers. Terms of the deal were not disclosed.