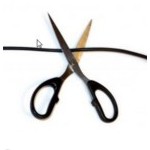 The latest data from the Centers for Disease Control paints the picture of a growing mobile first society in the U.S., with nearly half (45.4%) of U.S. households wireless only. The data comes from the CDC's July – December 2014 National Health Interview Survey (NHIS). The NHIS captures this data twice per year and provides some of the best data available regarding wireless substitution in the U.S.
Wireless only households is not an issue for just the very young anymore. According to the CDC data, more than two-thirds of adults aged 25–29 (69.2%) and aged 30-34 (67.4%) lived in wireless only households. That exceeds those in the 18 – 24 demographic, where 57.8% were wireless only.
For those beyond age 35 – 53.7% for those 35–44 were wireless only; 36.8% for those 45–64; and 17.1% for those 65 and over.
Renters (66.2%) and adults living with unrelated roommates (81.3%) far exceeded the national average of 45.4%. Household income is a factor as well. Nearly sixty percent (59.4%) of adults living under the poverty line were wireless only, compared to 42.5% of higher income adults.
Wireless Only Households Trend Accelerating Again
The wireless only substitution trend seems to be accelerating again. There was a brief moment where the trend looked to be flattening out, and maybe even had peaked. Between 2012 and 2013, wireless only homes only grew at 2.8%, a decline of 33% from the period 2011 – 2012, and far below the heyday of wireless substitution growth which grew eightfold in the six years between 2004 and 2010.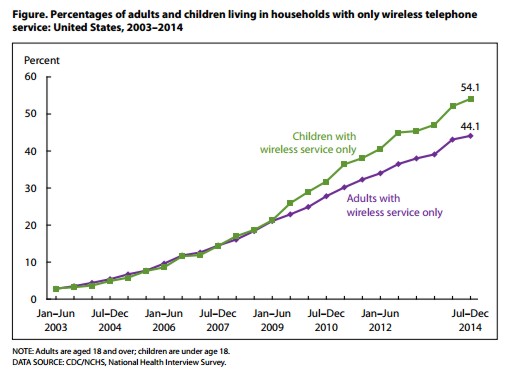 But growth accelerated by 4.4% between 2013 and 2014, an increase of over 57% over the period 2012 – 2013. It looks like wireless substitution is back on its acceleration track with no end in sight.
Wireless Mostly Trend
Among households that have both a wireline phone and a wireless phone, the trend of "wireless mostly" is worth noting as well. That is, where even though a landline telephone is present in the home, wireless phones tend to be the most used form for "all or almost all calls."
Among these households, 34.8% received all or almost all calls on wireless telephones. This translates to nearly 15% of all U.S. households, considered wireless mostly households, according to the CDC.
Combine that with the 45.4% of wireless only households, and about 60% of U.S. households choose wireless communication for all or almost all of their calls over landlines, according to this data.