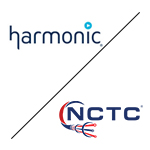 Harmonic said today that it has entered into an agreement with the National Cable Television Cooperative (NCTC) to offer the vendor's CableOS virtualized cable access technology to more than 750 independent cable operators in the United States.
The platform is being offered as a turnkey solution configured to ease the transition of small operators from older CMTS platforms to cloud-native DOCSIS 3.1 networks. NCTC members already deploying the platform include 1Tennessee, Buckeye Broadband, Comporium, Hilliary Communications and TVS Cable.
"NCTC members connect customers and businesses from their hometowns to the world, and broadband speed and capacity is vital to their success," said Rich Fickle, president and CEO of NCTC, in a press release. "
Enabling smaller cable operators and telcos to quickly offer the type of services available from their big city cousins always has been a challenge. It also is a key task of the NCTC. At the NCTC Winter Education Conference last month in Atlanta, a key topic of conversation was about the changing nature of video and its importance to traditional cable companies.
Broadband has become the primary service for many cable operators and NCTC is  putting much more focus on finding and offering broadband focused solutions to its membership. They hope to bring much more economies of scale to the broadband business, emulating their successful history of doing the same for video and programming.