Verizon introduced a new, redesigned My Fios App Jan. 17, one that makes use of Facebook Messenger as a customer service and engagement tool and enables customers to further and more easily improve their home Wi-Fi network performance, according to a news release.
Now available to all customers, Verizon began rolling out the new MyFios app earlier this month. When linked to the Fios Quantum Gateway router, end users can assess the performance of all devices connected to their Wi-Fi networks.
WiFi and Messenger Integration
The touch-driven Wi-Fi Analyzer will then resolve problems automatically or recommend users take specific action(s) to do so, thereby improving their Fios Internet over Wi-Fi service, management highlights.
Integrating Facebook Messenger as a Fios customer service and engagement tool is another major addition in the new MyFios App. Fios customers don't have to launch an app to contact Verizon customer service reps as a result. They can use Facebook Messenger to start chatting with a rep immediately.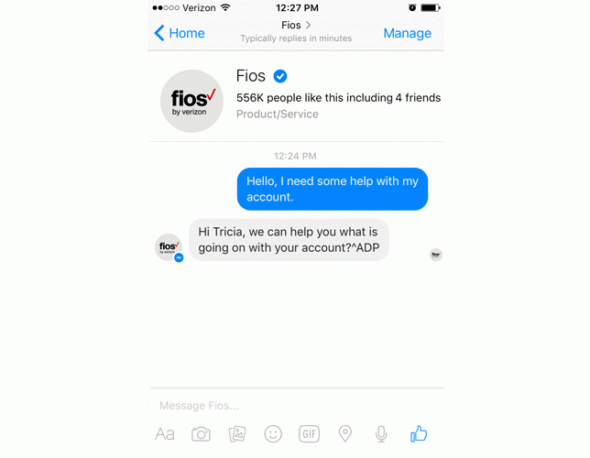 In addition, a new user interface makes it simpler and easier for Fios customers to pay bills and view mobile device activity, as well as contact Verizon customer support, management points out.
Features, such as the ability to pay a bill, manage Wi-Fi connections and use SmartCam, have been retained in the new app. More than 60 percent of all Fios customer interactions occur via one of these DIY channels, Verizon notes in today's news release.
Finally, the new My Fios App links to Fios Mobile, via which Fios subscribers can use their smartphones or other connected, mobile devices to watch live Fios TV and VOD content, as well as stream video stored on their home DVRs.
"Like everything we do, these App enhancements are a direct response to customer feedback," said Miguel Quiroga, head of digital for Verizon Fios. "For example, 'How can I improve my Wi-Fi speeds' is one of the most common questions we get from customers, so we've put the ability to do this right in the palm of their hand with the new Wi-Fi Analyzer tool."