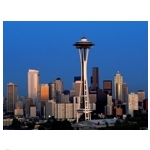 Could this be Municipal Gigabit 2.0? Two West coast cities, San Francisco and Seattle, are exploring new models for bringing ubiquitous gigabit to their constituents – models that would entail a higher level of city investment.
Big city gigabit rollouts to date have been achieved largely through private investment. But that could be changing now that gigabit pioneer Google Fiber has scaled back its deployment plans and cities have begun to question whether they can improve on the $70 a month or higher price that commercial network operators typically charge for gigabit service.
Google and other network operators began deploying gigabit services when cities began relaxing permitting procedures and, importantly, eliminating or relaxing requirements for networks to be deployed citywide. Cities now seem to be questioning the wisdom of allowing operators to cherry pick the neighborhoods in which they deploy gigabit services. And the revelation that Google may not roll out gigabit throughout Kansas City as originally planned could drive cities to rethink those policies.
"Universal access is a major factor" in why cities may rethink their broadband strategies, as is the desire to get better pricing, said Christopher Mitchell, director of community broadband network for the Institute for Local Self-Reliance, in an interview with Telecompetitor.
He added, though, that high tech hub cities such as San Francisco and Seattle may have another motive as well.
"They're trying to figure out how to be really cutting edge," Mitchell said. These cities, he said, are noting a "gap between those who have OK cable service and those who have gigabit service."
Municipal Gigabit 2.0 – San Francisco
A newly-released consultant report commissioned by the city of San Francisco recommends a public-partnership approach to bring broadband to every home and business in San Francisco, according to a news report from local media outlet San Francisco Examiner.
One model under consideration would have the city use a competitive bidding process to select a company to build out a citywide dark fiber network, which the city would own. A separate company would be selected to light the fiber and could sell service on the network to ISPs.
The report estimates that residents would pay between $26 and $67 monthly for gigabit service, while businesses would pay $38 to $97 monthly, the Examiner noted.
The consultant recommendations also call for a subsidy for the 15% of the city's population with the lowest income. Those users would pay just $10 per month.
The cost to build the network could be as much as $1.9 billion, according to the report. The city's financing of the project could come from revenue bonds backed by user fees and pre-leasing use of the fiber, the Examiner noted.
The new San Francisco report took a fresh look at municipal broadband options, which the city initially explored last year.
Meanwhile in Seattle
In Seattle, mayoral candidate Cary Moon has pledged to work with the city council, if elected, to create a "viable proposal" for a municipal broadband network that would operate as a "city-wide utility."
"Access to reliable and affordable high-speed internet is an equity issue, straight up," said Moon in a letter to small businesses in the community.
Moon's pledge comes about a year and a half after Seattle enlisted a consulting firm to explore municipal broadband options. As in San Francisco, the consultant recommended a public-private approach.
Image courtesy of flickr user CheWei Chang.