Charter said today that it will invest $100 per location to upgrade its entire broadband footprint by 2025. The $100-per-location price tag is a low one, particularly in comparison with what telcos are investing to deploy fiber broadband — typically multiple hundreds of dollars per location.
Charter offered considerable detail about its plans on a virtual investor conference webcast today. Plans include high splits, DOCSIS 4.0, a distributed access architecture (DAA) and an option for deploying fiber-to-the-home on a targeted basis.
The company also offered some additional detail about its rural deployment plans.
Charter Broadband Upgrade
The Charter broadband network upgrade will be rolled out in three phases, explained Rich DiGeronimo, Charter president of product and technology, on today's webcast.
The first phase, targeted for 2023, will involve introducing high splits to 15% of the company's footprint. The high splits will increase the amount of spectrum within a cable company's hybrid fiber coax infrastructure to 1.2 GHz, enabling those served over that infrastructure to get speeds of 2 Gbps downstream and 1 Gbps upstream. 
The upstream boost is particularly important for cable companies as it will put them closer to being able to match the symmetrical gigabit speeds (or in some cases multigigabit symmetrical speeds) that fiber broadband providers are offering.
The second phase, targeted for 2024, will encompass 50% of Charter's footprint and will involve deploying a distributed access architecture (DAA) and DOCSIS 4.0, in addition to the 1.2 GHz high split. This will enable speeds up to 5 Gbps downstream.
In the third phase, targeted for 2025, the remaining 35% of Charter's footprint will get DAA, DOCSIS 4.0 and a high split that will increase spectrum to 1.8 GHz, enabling the company to support downstream speeds of up to 10 Gbps.
The company doesn't plan to go back to locations that received the earlier upgrades to bring them in line with the later upgrades, DiGeronimo said.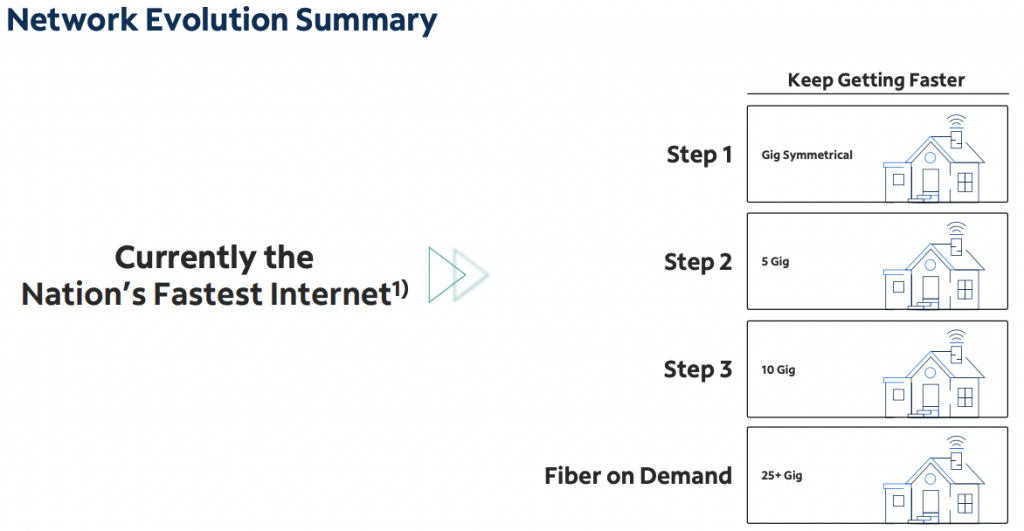 A Path to Fiber Broadband
Where Charter moves to a DAA approach, it will gain an easy upgrade path to FTTH, explained DiGeronimo.
DAA technology "moves radio frequency generation from the hub to the node" – and the node has modular capabilities, DiGeronimo said. One of the modules that can be installed at the node is a remote optical line terminal (OLT) that will enable the company to support symmetrical speeds up to 10 Gbps – and possible as high as 100 Mbps symmetrically in the future, according to DiGeronimo.
He noted that Charter is already using remote OLTs in the deployments it is making in rural areas that are funded, in part, through the Rural Digital Opportunity Fund (RDOF) program. The company was one of the biggest winners in that program and is authorized to receive $1.2 billion to cover a portion of its deployment costs.
Charter also shared some other details about its rural broadband strategy:
The company is seeing rates of return in the mid to high teens in rural areas.
In addition to the RDOF funding, Charter has won an additional $400 million in state and local broadband funding, which will be used to make broadband available to 160,000 locations. Charter will contribute an additional $500 million to those deployments.
The company also has bids pending to bring broadband to 300,000 more locations.
A replay of the Charter investor conference is available at this link.