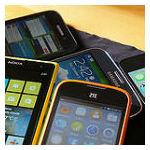 Smartphone buyers are presenting Apple with an opportunity to gain market share at the expense of arch rival Samsung, according to Market Strategies International. Responses to an MSI survey conducted for the research firm's ¨iPhone 7 Market Landscaper¨ revealed strong interest in iPhone offerings on the part of Samsung users. Nearly half of Galaxy Note owners (45%) expressed interest in the new iPhone. That was more than that for any other Samsung device user.
Apple is in a position to take advantage of that as Samsung struggles with challenges regarding the recently launched Galaxy Note 7, according to MSI.
"Our conversations with customers reveal a strong likelihood that Samsung Note users are ripe for defecting to Apple," MSI VP for research and consulting Greg Mishkin was quoted in a press release. "Samsung's recent issues are a huge boon to Apple, just as many were writing off the iPhone 7 release as insignificant."
MSI's new study also reveals the features and functionality Apple and Samsung smartphone users would most like to see improved. Among the key findings:
Battery: 80 percent of current iPhone users and 60 percent of current Samsung users want a longer-lasting battery more than any other feature.
Waterproofing: Although 74 percent of current iPhone users and 56 percent of Samsung users are interested in a waterproof iPhone 7, only 16 percent of iPhone users and 8 percent of Samsung users would like to see the headphone jack removed, a change that Apple had been considering for the next iPhone release.
Wireless Charging: 64 percent of Apple users and 46 percent of Samsung users hope for this feature on the next iPhone.
Memory: 58% of iPhone owners and 44% of Samsung owners noted more memory as a feature of interest.
Screen Size: While 61 percent of iPhone users who currently have a large screen (i.e., iPhone 6/6S Plus) report wanting an even larger screen, only 30 percent of people with older iPhones (i.e., iPhone 5S and earlier) want larger screens.
Interest in iPhone Varies By Current Device
MSI also delved into differences in Apple and Samsung smartphone customer preferences and usage among wireless network service providers. Overall, MSI's results show healthy interest in iPhone 7 among carriers' customer bases. Six in 10 of current iPhone users expressed interest in the new iPhone 7.
Verizon Wireless and AT&T account for 33% and 34% of Apple iPhone distribution, respectively. Just 17% of Verizon Wireless's loyal iPhone users showed interest in the iPhone 7, however.
MetroPCS was one of the last carriers to add the iPhone 7 to its roster of supported smartphones. Interest in owning the new iPhone among its user base has been building with nearly 40% expressing interest in the device, according to MSI.
"The difference in iPhone 7 needs and wants varies greatly based on customers' current make and model, wireless carrier and brand loyalty¨ Mishkin commented. ¨Understanding who these customers are and what differentiates their interests in upgrading to the iPhone 7 is of paramount importance to retailers, carriers and brand marketers in the days and months ahead."