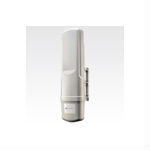 The former Motorola is quite busy selling parts of itself lately. Private equity firm Vector Capital has reached an agreement with Motorola Solutions to acquire their broadband wireless business unit, which includes Point-to-Point (PTP) Orthogon and Point-to-Multipoint (PMP) Canopy wireless lines. Financial terms of the deal, which is expected to close as early as the end of September, were not disclosed. The private equity firm intends to operate the business as stand-alone unit and has named it Cambium Networks.
Vector is taking on the Motorola's business lines' management and other employees, as well as its portfolios of licensed and unlicensed wireless broadband platforms. Motorola Solutions' vice president of wireless network solutions Phil Bolt has been named Cambium's CEO.
"The launch of the Motorola Solutions' Canopy and Orthogon business units as Cambium Networks will create an exciting and significant growth opportunity for both Cambium Networks and our partners," Bolt said. "Our partners will continue to receive the innovative products, quality and support for which we are renowned, only now with the advantage of increased focus and flexibility."
Motorola Solutions intends to continue purchasing products from its spin-off to meet the needs of its direct public safety and federal government accounts, according to the press release.
"We look forward to working with Motorola Solutions to spinout Cambium Networks," said Alex Slusky, managing partner at Vector Capital. "Vector has deep experience restoring focus and accelerating growth at non-core divisions of the largest global technology companies. "We will enable the Cambium management team to build the leading independent provider of PTP and PMP solutions. We are committed to taking great care of customers and creating future opportunities for the employees of the new Cambium Networks."