Home networking can be a great opportunity—and a logical fit—for broadband service providers, including telcos and cable companies. The hitch is that if a customer has a problem with any aspect of the home network, it can reflect badly on the service provider and put the customer's total spend with the service provider at risk.
A new offering from Motorola announced this week, called EDGE Home Center, hopes to help address these concerns by giving service provider customers the ability to install and maintain home networks, as well as diagnose and troubleshoot many home network concerns through devices like an iPad.
"With the new interoperability capabilities of today's media devices and the increased tech savviness of today's consumer, the subscriber now has the tools to own such home network management tasks," said Alan Letfkof, corporate vice president and general manager of software solutions for Motorola Mobility. "That's why we're delivering innovative service assurance solutions that will be relevant and efficient both now and in the future."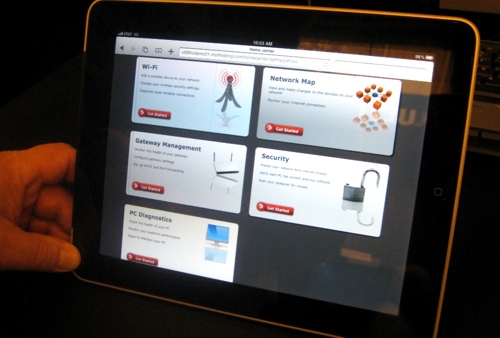 The EDGE Home Center is a cloud-based, multi-screen, self-help console that lets customers connect and manage any device on the home network from home or a remote location, Motorola said. The cloud-based design provides direct connectivity to service provider provisioning and billing systems for real-time updates.
Motorola designed the EDGE Home Center with a modular approach with the goal of enabling it to support value-added services such as anti-virus, PC backup, home automation or third-party applications. In addition, the new offering has extensive session-logging features, simplifying a call center agent's ability to troubleshoot problems in the event that a customer has to call for additional assistance.
EDGE Home Center augments the capabilities of the Motorola EDGE Service Assurance Software Suite announced several weeks ago. The EDGE Service Assurance platform works with Motorola and third-party modems, gateways, set-top devices and mobile devices, providing management capabilities supported by the Broadband Forum's TR-069 standard.
In a blog post, Motorola noted that the EDGE platform builds on a host of other Motorola diagnostic tools, including STDC for set-top devices, the Timbutu technology for remote PC access, and a speed test solution used by Cablevision today.
"As we move into the era of gateway devices with embedded DOCSIS 3.0, these types of management tools become increasingly useful," the blog post noted. "Suddenly everything hangs off one network connection point—set-tops included."