The business of providing digital home multimedia, cross-platform products, services and support to broadband service providers is a dynamic and growing one.  Motorola yesterday announced the introduction of the Motorola EDGE Service Assurance Software suite, a set of customer care applications for home networks that it will sell directly to broadband carriers.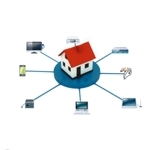 According to Motorola, the EDGE customer care suite enables them to "more efficiently activate, provision, maintain and support all broadband services in a multi-screen digital home, while simultaneously reducing their overall operational costs and accelerating the introduction of new high-revenue service offrrings — all while providing a differentiated customer care experience."
Motorola's EDGE Manager remote management software platform — formerly known as Motorola NBBS — is the core of the new service suite.  It's a multi-protocol management solution compliant with the Broadband Forum's TR-069, which Motorola claims is deployed in more than 20 million devices around the world, including Motorola and third-party modems, gateways, set-tops and mobile devices.  Add-on modules that will help make the new service suite more attractive to cable service and a broad range of telecom providers include a DOCSIS 3.0 Speed Test, WiMAX Management, Microsoft Mediaroom middleware management, and a voice management module for diagnostic testing of VoIP installations.
"The evolution of the digital home is placing an increased support burden on service providers as consumers migrate to advanced gateways and multi-screen services," Alan Lefkof, corporate vice president and general manager, Software Solutions, Motorola Mobility, stated in the news release.
Motorola joins a host of other suppliers in the digital home space, all of whom are deploying hardware and software platforms that allow broadband service providers to better enable and manage the digital home on behalf of their customers. It's a growing business opportunity as consumers deploy a plethora of content consuming digital devices throughout the home and are looking for service providers who can provide and manage the best digital home experience.