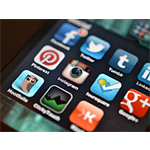 Smartphones have practically become human appendages among the fast growing number of mobile device users worldwide as Internet-enabled mobile devices have evolved to serve a growing range of functions. That includes entertainment, which are the most popular smartphone apps.
According to new GfK MRI research, smartphone users today are just as likely to be searching for ¨mindless entertainment,¨ e.g. streaming video or video games, as connecting with family or friends via text messaging or other modes of telecommunications.
Collectively, texting was the response survey respondents gave most often when asked what smartphone activity was most important to them first thing in the morning, GfK MRI highlights in a press release. They placed entertainment apps, e.g. music streaming, above Twitter and other widely popular social media platforms.
Most Popular Smartphone Apps
More than 20% of time spent on smartphones (22%) was for entertainment, including playing games, listening to music, surfing the Web and viewing streamed content, according to GfK-MRI's ¨Mobile Now¨ report. That's the same percentage of time spent texting and making phone calls. In addition, 10% of time spent was devoted to social media, and another 10% was spent on email.
The market researchers surveyed 5,900 U.S. smartphone users from September-November 2015, also finding that:
Texting was cited by 67% of respondents as the first mobile activity they engage in in the morning. Email ranked second (63%), followed by Facebook (48%) and checking weather (44%).
Games were seventh (19%), while music streaming service Pandora placed above Pinterest, Twitter and other popular social media apps.
More than two-thirds of all respondents (68%) reported they text more than talk on their smartphones. That rose to 83% among Millennials. All respondents also said texting would be the smartphone feature they would miss most if it wasn't available.
GfK-MRI also categorized 4 in 10 smartphone owners (39%) of U.S. smartphone owners as either ¨ardent Mobile Embracers¨ (24%) or ¨Entertainment Seekers¨ (15%). The market researchers define the former as those who integrate smartphones into every aspect of their lives. The latter is defined as young singles drawn to mobile gaming and streaming video.
GfK-MRI went on to elaborate research results among other types of smartphone users as follows:
Casual Gamers – 18% of the smartphone population, likely to be white women who have kids
Info Seekers – 18%, frequently white, educated, married men interested in news and/or sports
Mobile Fundamentals – 25%, awkward users who need help just downloading a new app.