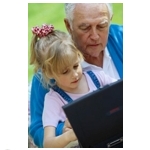 Six million more senior citizens are active Internet users today than was the case five years ago, and they are spending more time surfing the Web as well, according to the latest Nielsen Co. survey published on Nielsenwire. 
According to Nielsen, the number of seniors–those 65 or over–actively using the Internet increased more than 55% between November 2004 and November 2009, from 11.3 million to 17.5 million. Growth in the number of senior-aged women outpaced that of men by 6 percentage points.
Active Internet-using seniors are also spending more time on the Internet: slightly more than 58 hours per month as of this November as compared to 52 hours per month five years ago, an 11% increase.
E-mail remains the #1 activity for seniors online–nearly 90% surveyed did so. Viewing or printing maps online, checking the weather and paying or viewing bills online ranked second, third and fourth, respectively. Just over half of online seniors also view and/or post photos online while just less than half read general and political news.
Which sites are most popular with these elder active Internet users? Google Search, Windows Media Player and Facebook, according to the Nielsen survey.