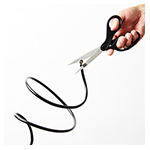 Four of the nation's largest cable companies saw broadband revenue growth between 8.1% and 12% over the last two years, but how they achieved that growth varied, note financial analysts at MoffettNathanson LLC in a new research note analyzing cable broadband ARPU and subscriber data.
While new subscribers were the biggest contributor to overall growth for Charter and Comcast, growth in average revenue per user (ARPU) was the key factor for Altice USA and CableOne – an achievement that the researchers attribute, in part, to higher video subscriber losses for those companies.
As the researchers explain, video cord cutting boosts broadband ARPU by "unwinding" bundled discounts, while at the same time it tends to boost consumers' appetite for higher broadband speeds. The researchers noted, for example, that Altice USA has been able to persuade about 80% of video cord cutters to opt for a higher broadband service tier when they cut the cord.
Video programming costs have been skyrocketing, and Cable One was the first major cable company to make the decision to increase video prices to cover programming costs, even though that caused customer losses on the video side. That strategy has helped contribute to Cable One's relatively high ARPU of $71.80 per month. Altice USA has since adopted a similar strategy and now has the second highest ARPU of the four cable companies studied, at $64.58.
Cable Broadband ARPU
In comparison, Charter and Comcast have ARPUs of$56.67 and $60.86, respectively. Charter has been particularly reluctant to raise prices, MoffettNathanson notes, so it's not surprising to see that company having the lowest ARPU of the four companies studied.
The percentage of total broadband revenue growth coming from ARPU growth versus subscriber growth tracks closely with ARPU, according to MoffettNathanson. The majority of Altice USA's overall broadband revenue growth of 12% between the second quarter of 2017 and the second quarter of 2019 came from ARPU, which generated revenue growth of 9.8% in comparison with a 2.2% revenue increase from subscriber growth. Cable One saw a 9.7% broadband revenue growth rate, comprised of 7.5% ARPU growth and 2.2% subscriber growth.
It was a different story for Comcast and Charter. Comcast's overall growth rate of 9.4% over the study period was comprised of 4.4% growth in ARPU and 5% subscriber growth. For Charter, an overall growth rate of 8.1% was comprised of 3.2% growth in ARPU and 4.9% subscriber growth.
The results are important, in that ARPU growth is likely to take on increased importance as broadband subscribership nears the saturation point. Some industry observers have argued that the broadband growth rate dropped from 3% for the 12-month period ending at the end of first quarter 2019 to 2.8% for the 12-month period ending at the end of second quarter.
MoffettNathanson disputes this number, arguing that it is important to consider the impact of household formation, which dropped in second quarter, according to the U.S. Census Bureau. When the data is adjusted to reflect that, the underlying growth rate of broadband increased in the second quarter, according to the researchers.
Nevertheless, the MoffettNathanson researchers also note that broadband penetration currently stands at just under 82% of U.S. occupied households. They added that "With natural limits on penetration approaching – remember penetration here is measured as a percentage of total U.S. homes, some of which are too rural to be reached by wired services, others of which are deeply impoverished, and so on – it is therefore also mathematically irrefutable that incremental gains in penetration must also slow."
The upshot is that cable companies, and broadband providers in general, are likely to be putting greater emphasis on ARPU over subscriber growth moving forward. The researchers point to news reports that Charter is raising broadband prices between 6% and 7%, while also raising video prices between 7% and 11.5% (and as we have seen, video price increases tend to generate cord cutting which, in turn, generates higher broadband ARPU.)