Mobile video viewing has been growing rapidly and reached massive scale over the course of recent years, according to a new mobile video viewing survey. Some 1.1 billion consumers use their smartphones or other Internet-connected mobile devices to watch streaming video content, according to Ericsson ConsumerLab's latest TV & Media Report.
Viewers are spending more time watching TV and films on mobile devices as well, 85 percent more over the last six years. Moreover, U.S. mobile video viewers rate VOD services higher than broadcast TV despite spending substantially more time to search for content, Ericsson ConsumerLab highlights.
Average mobile video viewing time has increased more than 200 hours a year since 2012, according to the seventh annual edition of the Ericsson ConsumerLab TV & Media report. That's driven up overall TV and video weekly viewing time 1.5 hours, but prompted a 2.5 hour/week drop in TV fixed-screen viewing time.
Mobile Video Viewing Survey
According to the report:
Weekly share of time spent watching TV and video on mobile devices has grown by 85 percent (2010-2016); on fixed screens it has gone down by 14 percent over the same period
40 percent of consumers globally are 'very interested' in a mobile data plan that includes unrestricted video streaming
In the US, 20 percent of mobile viewing is paid-for content using services such as Netflix, Hulu, and Amazon Prime.
All that said, viewers continue to be frustrated when it comes to TV and video search and discovery. Satisfaction was low for 44 percent of U.S. survey respondents, who said they couldn't find anything to watch on ¨linear TV,¨ up sharply from 36 percent a year ago.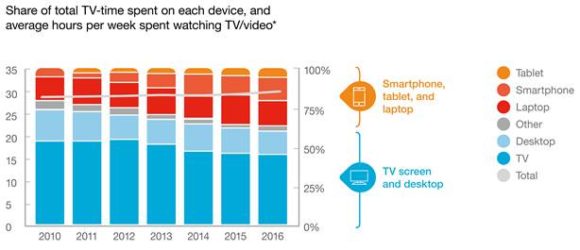 Nearly two-thirds (63 percent) said they were very satisfied with VOD content discovery. That compares to 51 percent for linear TV. The opportunity to find programming they really want to watch, and watch it when they want to may explain the apparent contradiction, Ericsson ConsumerLab suggests.
Total VOD viewing time – streaming TV series, movies and other TV programs – has increased 50 percent since 2010. In addition:
Consumers continue to embrace binge watching; 37 percent watch two or more episodes of the same show in a row on a weekly basis, more than a fifth say they do this daily
Consumer spending on VOD services in the US has increased by over 60 percent since 2012, from $13 to $20 per month
40 percent of respondents say they watch YouTube daily; a substantial 10 percent of consumers say they watch YouTube for more than three hours a day
Summarizing the latest report findings from the mobile video viewing survey, Ericsson ConsumerLab Senior Advisor Zeynep Ahmet said: "Based on our extensive research, we can see consumers increasingly ask for seamless access to high quality TV and video content, across services and devices.
¨For consumers in general, and millennials in particular, being able to watch on the smartphone is key. Consumers not only want the shared, social broadcast TV experience, they also expect the flexibility of an à la carte on-demand media offering. Today's experience is multifaceted and consumers want to create their own worlds of compelling, personalized content."