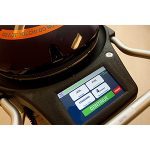 XENEX, a UV-technology based provider, is working with AT&T to connect their LightStrike Germ-Zapping Robots to help disinfect surfaces via intense pulsed xenon ultraviolet (UV) light. The UV light deactivates viruses, bacteria and spores on surfaces.
An AT&T cloud-based IoT platform is wirelessly connecting the XENEX robots to the network.
"IoT connectivity can play a critical role in healthcare and that's never been more apparent than during the COVID-19 pandemic," said Chris Penrose, senior vice president of Advanced Solutions at AT&T in a press release. "AT&T is providing global connectivity for XENEX's virus-killing robots. Through a single cloud-based platform, we can deliver visibility and agility – allowing XENEX the ability to dynamically adapt to a changing business."
According to AT&T, the carriers IoT connectivity provides performance information for the XENEX robots that aids with the following:
Documenting each room the robots disinfect, for how long the robot was operated, and by which operator.
Helping hospitals meet standard operating protocol (SOP) goals.
Providing proactive diagnostics to ensure that the robots perform properly.
Offering near real-time maintenance information – notifies when an issue is encountered to ensure valuable equipment is in good working order.
Enabling the devices to accommodate future technologies.
Allowing control of software upgrades without interrupting customer operations.
Healthcare associated infections (HAIs), which some patients contract while receiving treatment for medical or surgical conditions, are the bane of hospitals and other healthcare facilities. Keeping hospitals as germ-free as possible is a critical patient safety issue and an ongoing challenge. This reality has only been exacerbated during the COVID-19 crisis.
"The data we receive from the robots is essential to our epidemiologists, researchers, and engineering team," said Paul Froutan, Chief Operating Officer for XENEX, in a prepared statement. "Our ability to receive the data quickly and know that it is accurate is of utmost importance. It helps us analyze how our customers' disinfection programs are performing, which can have a dramatic impact on their ability to reduce their infection rates. That data is provided to us through AT&T."
Other robotics companies have also relied on AT&T to provide connectivity for their mobile units as Telecompetitor has previously reported.