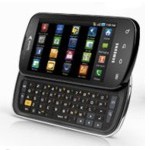 Sales of mobile phones rose 35% year-to-year in this year's third quarter to 417 million units while smartphone sales rose 96%, accounting for 19.3% of the total, according to Gartner research.
"This is the third consecutive double-digit increase in sales year-on-year, indicating that consumer demand is healthy," Carolina Milanesi, Gartner's research vice president, stated in a news release. "This quarter saw Apple and Android drive record smartphone sales. Apple's share of the smartphone market surpassed Research In Motion (RIM) in North America to put it second behind Android while Android volumes also grew rapidly making it the No. 2 operating system worldwide."
Nokia, Samsung and LG continue as the world's three largest mobile device manufacturers but their market share is decreasing. Apple broke into the top five, passing RIM to rank fourth. A new test on the horizon is how the introduction of tablet PCs will impact mobile device sales, according to Gartner, which forecasts media tablet sales to reach 54.8 million units next year.
"Apple's dramatic expansion of iOS with the iPad and the continuing success of the iPod Touch are important sales achievements in their own right. But more importantly they contribute to the strength of Apple's ecosystem and the iPhone in a way that smartphone-only manufacturers cannot compete with," Ms. Milanesi said.