A mobile IPv6 network milestone was passed last week as Facebook and Akamai reported that more than half the requests from the four largest U.S. mobile networks were IPv6-based. Facebook's Paul Saab marked the achievement on the company blog, pointing out that it has been just four short years since the World IPv6 Launch in 2012.
Akamai's Erik Nygren did similarly as of Aug. 10, the Internet Society Deploy360 Program highlights. IPv6 was used in around 70 percent of Android and 30 percent of iPhone-based access requests from the top four U.S. mobile networks across Akamai's dual-stacked (IPv4/IPv6) sites. That was 10 percent higher than in May for each.
Nygren wrote that Akamai also has noticed that T-Mobile began deploying IPv6 to iOS devices as well as in a dual-stacked configuration. More broadly, IPv6 now accounts for nearly 55 percent of mobile network requests handled by AT&T, Sprint Wireless, T-Mobile USA and Verizon Wireless, according to World IPv6 Launch's Mat Ford.
Mobile IPv6 Migration Reaches a Tipping Point
Having launched its IPv6 migration in 2012, Comcast announced dual-stack IPv4/IPv6 compatibility across its entire network back in July 2014. Dual-stack capability is required as IPv4 and IPv6-based packets cannot communicate directly. Dual stacks assign both IPv4 and IPv6 addresses to them.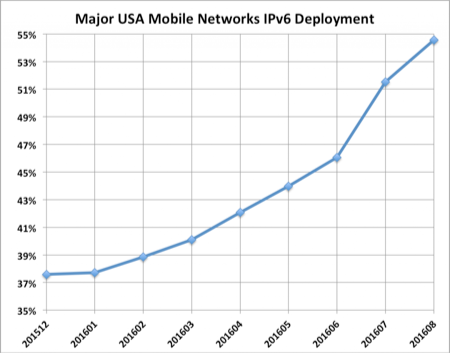 Use of dual stack connectivity will reach an endpoint when ISPs run out of assignable IPv4 addresses, however. Other so-called transition solutions, such as carrier-grade Network Address Transition (NAT) can be used to serve the remaining IPv4 endpoints.
As of July 2015, Africa was the only one of the five global Internet address registries that still had an inventory of assignable IPv4 addresses, according to Comcast.
As of July 17, Verizon Wireless led the way in U.S. network operators' migration to IPv6, having deployed IPv6 across 77.62 percent of its network, according to World IPv6 Launch statistics. T-Mobile USA followed at 71.09 percent and AT&T ranked third in percentage terms, having deployed IPv6 across 58.54 percent of its network.