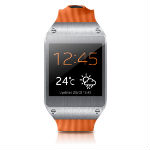 In the mid-1990s, Apple kick-started what quickly grew into an industry-wide rush to develop and roll out connected mobile devices with touchscreens. The innovation has changed the look, feel and performance of portable digital media devices, smartphones, tablets, and to a lesser degree, personal computers. A new generation of user interfaces is poised to reduce touchscreen devices, however, according to a new market research report from ABI Research.
Growth in the use and application of sensors will result in the introduction, and move into the mainstream, of a variety of new consumer electronics (CE) products with "entirely new form factors" in coming years, according to excerpts from ABI's "Human-Machine Interfaces Market Research."
The emergence of new mobile CE device form-factors will incorporate new user interfaces (UIs), such as voice, gesture, eye-tracking and even neural controls that are making the transition "from research labs into future product solutions," ABI highlights in a press release.
"Touch got mobile device usability to where it is today, but touch will become one of many interfaces for future devices as well as for new and future markets," ABI Senior Practice Director Jeff Orr was quoted as saying. "The really exciting opportunity arrives when multiple user interfaces are blended together for entirely new experiences."
Gesture Control Forecast
Researching 11 unique mobile CE device features that included embedded sensors, ABI found that UIs controlled by hand and facial gestures will be the fastest growing in a new generation of smartphones and tablets – experiencing compound annual growth rates (CAGRs) of 30 and 43 percent, respectively, from 2014 to 2019. User attentiveness and navigation control are among the applications to make use of hand and facial recognition technology.
The impacts of this next generation of mobile CE device UIs with natural sensory controls will extend from cars and homes to other common facets and aspects of modern daily life, such as the emerging market for wearable connected mobile devices, ABI says. Even as UI features become more technologically sophisticated, the need to keep them simple and intuitive for mass market adoption remains, however.
As Orr said, "Packing a mobile device with sensors goes little beyond being a novelty. Complexity contradicts good UI design and a critical mass of engaging mobile applications are required for mainstream adoption."
Today's vehicles illustrate the balancing of technological complexity with intuitive, easy-to-use UIs, ABI continues, "where myriad of subsystems are working with the driver to arrive at a destination safely with a minimal amount of learning curve."
Driving the advent of this next generation of connected mobile devices, chip manufacturers now offer multi-sensor, single-chip packages. "This has not only benefited the handheld form-factor, but been the premise for the leading commercially available wearable devices," ABI points out.
"As multiple sensors and gadgets work real-time to collect data from an individual and the surrounding environment, the potential for complexity arises once again with each person looking to have their own personalized experience."