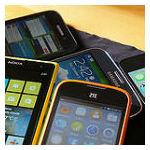 Last year mobile app usage surpassed that for desktop devices for the first time, accounting for over half of all U.S. digital media consumption, according to comScore. Mobile's rise continues. "The number of mobile-only adult Internet users exceeded the number of desktop-only Internet users" for the first time in March, comScore said.
Testimony of just how fast mobile Internet usage is increasing, the percentage of U.S. desktop-only Internet users (19.1 percent) was nearly double that of mobile-only Internet users (10.8 percent) just a year ago, comScore points out. "Of course these numbers also tell us that the vast majority of the digital population (78 percent) is multi-platform and goes online using both desktop and mobile platforms," the market research company adds.
Mobile Overtakes Desktop for Internet Usage
Desktops still play and will continue to play a big role in the panoply of digital computing and communications devices, however, comScore says. "They're highly practical and efficient for accomplishing complex and information-heavy tasks, which makes them crucial for workforce productivity," the company said.
Moreover, consumers still prefer desktop computers when it comes to digital commerce – 87 percent of digital commerce occurs via desktops even though 60 percent of total time spent shopping online occurs on smartphones, according to comScore.
That said, current trends indicate a "mobile-first" future is here. According to comScore: "All signs indicate that the desktop computer is here to stay for the foreseeable future, but let's also not be surprised if, as a society, we become even more mobile over the years to come. And with more mobile-only Internet users than desktop-only users, it is yet another sign that digital media is evolving towards 'mobile first'."
Image courtesy of flickr user Jon Fingas.