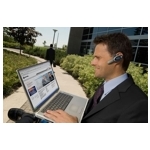 Nine out of ten adults "claim they have seen people misuse mobile technology," and three out of four say our mobile manners are getting worse, not better. This according to an Ipsos mobile etiquette study sponsored by Intel.
The study's results suggest some 'mirror checking' may be in order, since only 20% of respondents admit to exhibiting poor mobile etiquette, while 90% of respondents report witnessing it. Hmmm, wonder who the guilty culprits are.
According to the study, top mobile etiquette gripes include:
Using mobile devices while driving (73%)
Talking on a device loudly in public places (65%)
Using a mobile device while walking on the street (28%)
Personally, I don't mind the walking on the street business, as long as you can multitask, and stay out of the way. It can be dangerous though as evidenced in the video below.
http://www.youtube.com/watch?v=RvEbgwwsO1Y
Study authors suggest that "public displays of technology" are displacing awkward public displays of affection. Blasphemy!
"New digital technologies are becoming a mainstay in consumers' lives, but we haven't yet worked out for ourselves, our families, communities and societies what all the right kinds of behaviors and expectations will be," said Genevieve Bell, Intel Fellow and head of interaction and experience research, Intel Labs.
One interesting factoid Intel points out is that in the grand scheme of things, these mobile digital technologies are really in their infancy. Imagine what everyone will be doing in twenty or thirty years.