Mobile devices account for more than half (54%) of all connected devices in the average U.S. household, according to new connected home devices research from comScore. That's nearly twice the percentage for PCs.
Smartphones make up the biggest share (36%) of connected home devices research said. Desktops and laptops followed at 28%, according to results of comScore's Total Home Panel survey, which tracked more than 3,600 U.S. households with WiFi routers from December 2015 to March 2016.
Other connected mobile devices used in U.S. households, such as DVRs, set-top boxes (STBs) and Blu-ray players, made up well below 5% of the total, according to the research.
Other Connected Home Devices Research
That said, in its Total Home Panel study comScore found U.S. households are installing more and making more frequent use of OTT streaming devices, which have become the fourth most common Internet-connected device behind desktops, smartphones and tablets.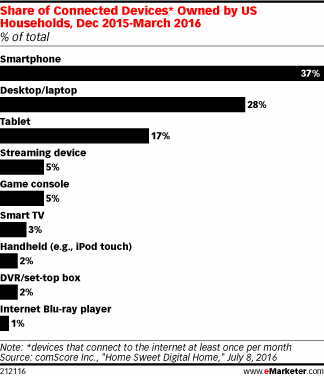 According to market research released by eMarketer this past February, more than 265 million Americans use mobile devices, desktop or laptop PCs to access the Internet at least once a month. Of those, more than 31 million rely solely on mobile devices in doing so, while the majority (215.7 million) used both mobile devices and laptop/desktop computers.