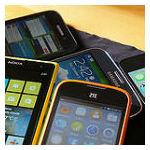 Feeling they may be missing some important news, favorite entertainment or great shopping deal, more than half the consumers in a global Nielsen mobile commerce survey (53%) may be subject to cellphone separation anxiety.
In addition, two-thirds agreed that electronic communications are replacing face-to-face interaction. That said, nearly half (47%) said they prefer texting to talking anyway.
Overall, 7 in 10 respondents said their mobile devices improve their lives, according to Nielsen's ¨Mobile Shopping, Banking and Payment¨ report.
Supporting this, Nielsen highlights that an estimated 2 billion formerly ¨unbanked¨ individual around the world now have access to modern banking services. Furthermore, The Demand Institute, which Nielsen runs in partnership with The Conference Board, estimates that access to electronic payments will result in $10 trillion of consumer spending over the next decade.
The ability to shop online is also making substantial impacts in retail marketplaces and among retailers worldwide, Nielsen Europe Financial Services Leader Stuart Tagg points out.
"Mobile commerce has enormous implications for the entire retail ecosystem," Tagg was quoted in a press release about the mobile commerce survey. "Mobile devices are not only bringing new consumers into the modern, connected economy, but they are enabling a more customized experience, as products and services can be more closely tailored to behaviors, needs and preferences.¨
Tagg did point out one broadly applicable caveat. ¨[D]riving higher adoption and usage starts with a deep understanding of how consumers are shopping and transacting in a digital world and then [using] that understanding to design strategies around their habits and preferences."
Mobile Commerce Survey Highlights
Other report highlights include:
Globally, mobile devices are indispensable shopping buddies to compare prices (53%), look up product information (52%), look for coupons or deals (44%), make better shopping decisions (42%), make shopping trips quicker or more efficient (41%) and purchase products (38%).
Worldwide, 38% of respondents say they purchased a product or service on their mobile device in the past six months, and 34% say they've used a mobile app to make a purchase in the same period.
Globally, mobile banking activities, such as accessing account information (47%) and paying bills (42%) are more common than transferring money between bank accounts (36%)
Around the world, just over one-quarter of respondents (27%) say they're highly likely to use a mobile-only bank serviced entirely through a mobile app.
Only 28% of global respondents are highly likely to use mobile payments in bars, restaurants or retail stores.