Growing fixed wireless momentum across the globe is leading to the concept of wireless-to-the-home (WTTH), promising fiber like speeds that are increasingly seen as lower cost alternative option for traditional wireline fixed broadband service. WTTH was on full display last week with particular emphasis on 4.5G WTTH, during Huawei's Mobile Broadband Forum (MBBF), which took place in Tokyo.
WTTH is seen as the next generation of fixed wireless, providing speeds of up to 1 Gbps, a dramatic improvement over first generation fixed wireless. Huawei likes to call it WTTH 2.0. The coming launch of 5G wireless will initially be focused on fixed wireless applications (WTTH 3.0), before providing true mobile broadband services, but a recurring theme at MBBF, is you don't have to wait for 5G.
4.5G WTTH
WTTH can be delivered today with multiple technology options, including 4.5G, allowing service providers to take advantage of the benefits provided by next generation fixed wireless today. The 4.5G classification can be attributed to LTE-Advanced Pro (LTE-A Pro) technology, which is the next generation of LTE technology, and is seen as a bridge between 4G and 5G.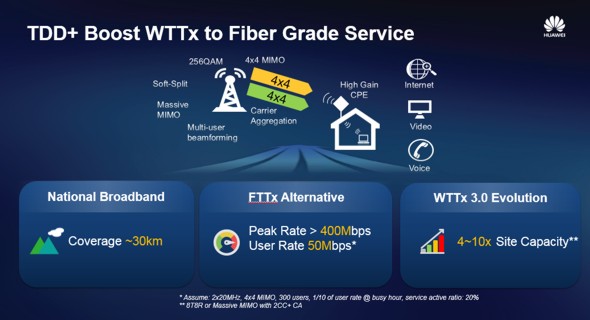 At a MBBF 4.5G Network Development Summit, the Global mobile Suppliers Association (GSA) defined LTE-A Pro as having a couple of distinct characteristics. LTE-A Pro networks have to offer one of the following:
Ultra-low latency
Enhancements for machine type communication (NB-IoT or eMTC for example)
In addition, the technology must also provide at least one other advanced technology characteristic such as carrier aggregation (4 or more combined carriers for downlink), total aggregated bandwidth of at least 60 MHz, higher order MIMO, or 256 QAM on the downlink (this is not an all-inclusive list of other potential technology characteristics).
It's a relatively new technology, with the GSA reporting 105 LTE-A Pro trials across the globe, including with T-Mobile USA here in North America. The GSA identified 13 current commercial deployments of 4.5G technology, with several 4.5G operators present at the MBBF. Huawei claims about 12 million WTTH subscribers served from operators using their 4.5G solution.
Turkish operator and Huawei customer Turkcell highlighted their 4.5G deployment at MBBF. They launched a 4.5G network in April 2016 using 4X4 MIMO and 256 QAM downlink. They've achieved peak downlink speeds of 600 Mbps on the network.
WTTH Comes in Many Forms
While 4.5G WTTH networks can achieve peak downlink speeds of hundreds of megabits per second (even approaching 1 Gbps or more), average user speeds at scale are more likely to be in the 50 Mbps and below range. For example, Huawei customer Globe, based in the Philippines, has a commercial 4.5G enabled WTTH network, offering download speeds of between 5 Mbps and 100 Mbps, with 15 Mbps the most popular. The advent of 5G, or WTTH 3.0, should see average user speeds increase significantly.
WTTH is seeing increasing momentum, and as a concept doesn't have to use 4.5G technology exclusively. Several trials here in the U.S. are using millimeter wave technology to achieve similar results. Commercial deployments from Google fiber (through their Webpass acquisition), AT&T, and many others are looking to WTTx as a much lower cost option than FTTx for delivering ultra-broadband services.
Image courtesy of flickr user davef3138.