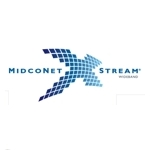 Rural cable MSO Midcontinent Communications (Midco) unveiled a DOCSIS 3.0 broadband campaign today, labeling it MidcoNet Xstream® Wideband Internet service. The faster broadband service leverages DOCSIS 3.0 technology and offers download speeds up to 100 Mbps and upload speeds of up to 15 Mbps.
"The demand for streaming online content is skyrocketing. Speed is important, but with multiple devices connected to the Internet, capacity is essential. MidcoNet Xstream® Wideband delivers both the speed and capacity necessary to meet our customers' needs, now and for years to come," said Pat McAdaragh, president and CEO of Midcontinent Communications in a press release.
Midcontinent has been transitioning their cable footprint from analog to digital over the past nine months. With the digital expansion, Midco now offers the following Xstream broadband tiers:
MidcoNet Xstream® Wideband 3.0 will offer up to 100 Mbps downloads and 15 Mbps uploads
MidcoNet Xstream® Wideband 2.0 will offer up to 50 Mbps downloads and 10 Mbps uploads
MidcoNet Xstream® Wideband 1.0 will offer up to 30 Mbps downloads and 5 Mbps uploads
Current broadband customers will automatically be upgraded to their appropriate Xstream tier at no additional charge, says Midco. As a part of the campaign, Midco has launched a MidcoNet Xstream® microsite, offering a variety of tools.
Midco operates rural cable systems offering the triple play and business bundles in North and South Dakota and Minnesota, serving approximately 250K customers. Midco is a joint venture between Midcontinent Media, Inc. and Comcast Corporation.