In a move illustrating a growing focus on business and enterprise services, cable MSO Midco buys data center operator Dataware LLC and taps the regional fiber network owned and operated by independent telco Arvig of Minnesota. The deals highlight a growing strategy of cable MSOs, large and small, to add business and enterprise focused products to their services portfolio.
Arvig operates a 4,000 route-mile fiber network throughout Minnesota. Midco will interconnect that fiber network with their own Northern Plains Network regional fiber network, giving it more reach into Minnesota. Expansion markets cited as appealing from this deal include Duluth, Marshall, the Minneapolis-St. Paul metro area, Rochester, St. Cloud and more.
"We've heard increased interest from our current and prospective customers about wanting to make more connections to cities and towns that Arvig covers," said Scott Smidt, Vice President of Business Engineering and Operations at Midco in a press release. "This relationship allows those businesses the chance to still have Midco as their single point of contact – even if they want to connect off the Midco core network in this region."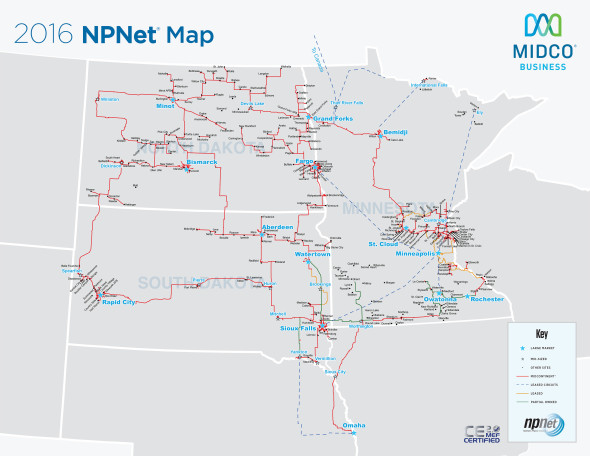 "Midco and Arvig have worked together to establish an agreement which satisfies the most strict network technical requirements of a customer and complies with MEF standards," Smidt tells Telecompetitor in an emailed statement. Smidt says that both companies will be able to resell services off the others fiber network and they will initially focus on Ethernet and wavelength services.
Midco Buys Data Center
In addition to expanding their reach for business and enterprise customers, Midco also added data center capabilities with the acquisition of Dataware LLC. Dataware operates two data centers in Sioux Falls and Yankton, South Dakota. This in combination with the Arvig deal gives Midco expanded capabilities to pursue the business and enterprise market.
"The combination of the data center environments on top of our Northern Plains Network is an advantage for Midco Business, but even more so for our customers," says Smidt in a press release announcing the Dataware acquisition.
Midco signaled they may continue with this expansion focus.
"As we look to the future, we may examine opportunities in additional Midco markets presently underserved by large data centers, such as Fargo and Grand Forks, and then move our focus to other key Midco markets," says Steve Grosser, EVP for Midco in the press release.
Smidt echoed that sentiment to Telecompetitor, saying "Midco is interested in extending high-quality business network coverage to regional areas where our business customers are requesting connectivity."
Other tier 2 cable MSOs have also been active with business and enterprise expansion. WOW! just recently expanded their fiber on-net building footprint for example. These and other moves by tier 2 cable operators are motivating smaller telcos to ramp up their business services capabilities as well. Codero just announced integration of their cloud services platform with 32 telco and broadband providers.