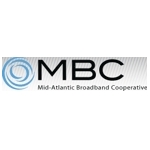 Mid-Atlantic Broadband Cooperative (MBC), a Virginia based membership cooperative made up from 55 private sector broadband carriers, announced several of its members have been awarded over $1.5 million for last mile broadband projects.
MBC operates an advanced open-access fiber optic backbone network that provides wholesale optical transport services, collocation, dark fiber, and tower construction/leasing in rural Virginia.
MBC members receiving funds include:
The grants are 50/50 matching and are provided by the Virginia Tobacco Commission for the provisioning of broadband services in underserved territories in rural southern Virginia. The VTC uses funds from the national tobacco settlement to promotion of economic growth and development in tobacco-dependent communities.
MBC reports these projects will "enable over 15,660 residential and business customers in the Southern Virginia areas mentioned to have access to high-speed Internet services." These areas previously only had access to dial-up Internet.