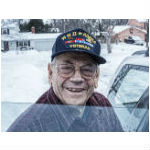 The million-plus veterans who live in rural America without broadband at home are the target of a new program involving Microsoft, Veterans Affairs and certain Microsoft partners. According to a Microsoft blog post, Microsoft and its partners will work with the VA to provide "capital, technology expertise and training resources" to bring broadband access to underserved rural communities with veterans in need. Microsoft has devoted considerable attention to rural broadband in the last year or two and the new program joins at least two other ongoing Microsoft rural broadband programs.
Veterans in target communities are "facing higher rates of unemployment, longer drives to reach the nearest clinics and medical centers and lower levels of educational attainment compared to their urban counterparts," said Microsoft Head of Technology and Corporate Responsibility Shelley McKinley in the blog post. "Connectivity has the potential to improve this reality."
Microsoft Rural Broadband
A Microsoft spokesperson said that the company will work initially with members of its Airband program on the deployments referenced in the blog post. The Airband program includes a dozen or so providers that are working closely with Microsoft to meet specific buildout targets – primarily using TV white spaces fixed wireless technology – to unserved rural communities. The Airband project aims to make broadband available to 3 million rural residents by 2022 and the Microsoft spokesperson confirmed that, rather than being in addition to those deployments,  the plans with Veterans Affairs involve targeting where those deployments occur.
As with the broader Airband program, the spokesperson noted that a mixture of technologies will be used for deployments associated with the VA initiative, depending on location, and will include TV white spaces.
She added that the company is looking into the feasibility of making the Airband ISP Program participants aware of the program with the VA so that they can also serve rural veterans.  The Airband ISP Program program includes more than 200 wireless internet service providers (WISPs), providing them with benefits such as access to lower-price equipment.
"We'll also work closely with our Airband ISP partners to raise funds to deploy broadband networks and provide broadband internet access to the veteran communities," the Microsoft spokesperson said. "And, we'll seek federal, state and local funding to cover capital expenditures associated with the deployment."
Asked for details about how target areas would be identified, the Microsoft spokesperson said the company will work with the VA to identify areas with large concentrations of veterans with limited broadband who may benefit from improved access to online VA services. "We'll support this effort by providing our anonymized usage data to the VA as well as our Airband project locations," the spokesperson added.
Microsoft's blog post also references the involvement of the company's veterans' program called Microsoft Software & Systems Academy (MSSA). The MSSA provides veterans with 18-week training for "high-demand" careers and paves the way for interviews with one of the company's 400 hiring partners.
Updated