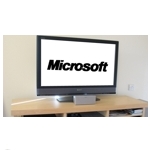 If you're reading this blog, chances are that electronic games are not your focus – and they aren't mine either. So you may have missed what could turn out to be the latest iteration of Microsoft TV unless you happened to be paying attention to Microsoft's SmartGlass announcement at the E3 game conference last week, which Telecompetitor covered in some detail at the time.
One way that Microsoft throws us off the trail is in its positioning of SmartGlass: as a complement to the Xbox 360 gaming experience. But it's just as easily seen as a TV-centric enhancement. TV has been a part of the Xbox since 2007 when Microsoft first announced Xbox support for its Mediaroom TV platform.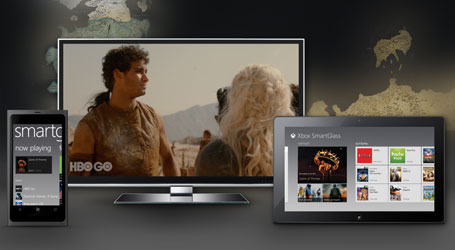 Until recently AT&T offered a kit to turn the Xbox into a U-verse non-DVR set-top box. The kit included an Xbox TV remote, Mediaroom software installer and a network adapter. But as of now a note has appeared on the 'AT&T U-verse TV for Xbox 360' Web page saying that the kit is currently unavailable "as we work to improve and enhance this functionality."
And last October, Microsoft announced plans to introduce Xbox 360 support with Verizon, Comcast, Germany's ZDF, Spain's Telefonica and a number of TV content providers through its Xbox Live service.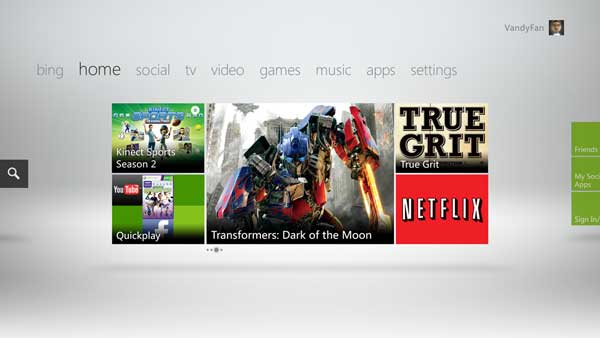 A puzzle with many pieces
A picture of "Smartglass TV" seems to emerge if you look at it as a puzzle with many pieces.
One piece is the second-screen app. In late 2011, Microsoft released an XBox 360 Companion App that turns a Windows Phone into an XBox virtual remote. There's also a Waypoint app for Halo, the Xbox 360 game. Waypoint enables game players to navigate through the Halo universe using tablets or smartphones running Apple iOS, Google's Android, and yes, Microsoft Windows Phone software. A look at the scrolling user interface of some of these apps makes it easy to imagine that the user could be scrolling through TV listings. Waypoint's maps can be substituted by movie genres, and game stats can just as easily be TV metadata.
Two more pieces are Web browsing and adaptive bit-rate streaming. The new Xbox version of Microsoft Internet Explorer is reportedly HTML5 compliant, as is Microsoft Internet Explorer 9 for Windows. HTML5 is fast becoming a standard TV and multiscreen UI environment for the latest generation of TV software clients. Also Xbox-compatible Microsoft Smooth Streaming has come into widespread use for multi-device (non-TV) video delivery, and many TV service providers have already adopted it for multiscreen delivery.
Because SmartGlass is a multiscreen experience, another question goes to where the multiscreen enablement lives. Sure, it can live locally on the hard drive of an Xbox 360, but its real power comes from the cloud. In fact, the first item in a Google or Bing search result for 'smartglass sdk' turns up an ad for a Microsoft Azure 90-day trial — and Azure is Microsoft's cloud platform. More details about this should be forthcoming when Microsoft releases a SmartGlass SDK and details the Xbox and Azure APIs that it uses.
A final puzzle piece: The Xbox 360 has some new navigation features — 'Favorites' and 'Search' — and Microsoft explicitly positions search as a vehicle to discover TV shows and movies.
When you add up these features — including the aforementioned Xbox apps and the voice and motion navigation made possible by the Microsoft Kinect device – it's logical to surmise that "Minority Report"-style TV navigation can't be too far away.
Of course, much of this is speculation, and perhaps a case of 'two-plus-two-equals-five.' But TV service providers evaluating or re-evaluating TV middleware platforms should take note. There have been many open rumors about the demise or disbanding of the Mediaroom team, and Mediaroom customers including BT are said to be abandoning the platform. Perhaps Microsoft is deliberately sending smoke signals to those who are paying close attention to keep the faith while the company throws more casual observers and competitors off the trail. It's entirely possible that Microsoft's existing Mediaroom customers have already been briefed on 'the true meaning of SmartGlass.'
The burning question is not whether or not a 'SmartGlass TV' platform would be a game-changer (excuse the pun), but whether it's too little too late.
All of the major TV software providers now have, or soon will have, multiscreen offerings; and they don't involve the Xbox 360. (Although Apple's TV solution remains in gestation, they are a smart company and are surely tracking TV middleware very closely – and Apple is smart to keep its plans secret as the bar for multiscreen TV keeps rising.)
Microsoft seems willing enough to open itself to third-party devices and HTML5, but if the core of SmartGlass is Azure and the Xbox 360 is the required home gateway, it might not be enough to sway TV operators whose allegiances are to Linux and to TV infrastructure and CPE vendors other than Microsoft.