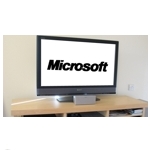 It's Consumer Electronics Show (CES) week, so the rumor mill is working overtime these days. One which caught my eye this morning is a potential launch of yet another OTT video set-top-box – this time by Microsoft.
Several media outlets, including the Seattle Times, are reporting that Microsoft will announce the new set-top-box (STB) this week at CES, in the hopes of taking on Apple TV and Google TV for the growing segment of OTT video.
The new box will feature a stripped down version of Microsoft Windows, tightly integrated with Microsoft Media Center. It will reportedly have a great user interface, or electronic program guide (EPG), a feature that other OTT set-top-boxes have failed to deliver on. Microsoft is probably leveraging its experience in EPGs from Mediaroom, its IPTV middleware product.
Early indications suggest this new Microsoft STB will not feature a stripped down version of Mediaroom, especially considering it expects to retail for $200.
Microsoft is hoping to grab some of the momentum of OTT video with this new offer. They will be greeted by a fairly crowded market already, with established offers from Apple, Google, and Boxee, not to mention the growing number of connected TVs and Blu-Ray players which have their own OTT video operating system embedded in them.
Of course Microsoft is already in the OTT video market, and in a big way, thanks to their Xbox video game console, which is present in millions of living rooms already. OTT capable Xbox platforms offer a variety of OTT video options and just recently, have been IPTV STB enabled, through services like AT&T U-Verse TV.
So, does Microsoft have a well thought out video strategy that hopes to capture all types of video consumers, cord cutters and traditional alike? Or are they throwing everything against the wall, just to see what sticks?