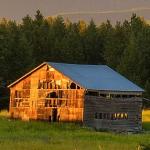 Microsoft has joined a growing chorus of critics of FCC broadband availability data. The company's concerns came to light as part of an update about the company's Airband rural broadband initiative provided by Microsoft President Brad Smith, who also said Microsoft will raise the number of unserved Americans that Airband will reach from 2 million to 3 million while retaining the existing deadline of 2022.
The Airband initiative relies in large part on fixed wireless technology using vacant TV broadcast spectrum known as TV white spaces and Smith also said today that he would like to see the government direct some broadband funding directly to fixed wireless initiatives.
"We need to raise our ambitions," said Smith at an event in Washington, D.C. today that was also webcast.
The Airband initiative, launched 17 months ago, works through partnerships with rural service providers, with Microsoft footing some deployment costs for partners. The company now has commercial partnerships in 16 states and pilot projects in four additional states, Smith said. These agreements, he said, will bring broadband to one million people who "didn't have any expectation of receiving broadband a year and a half ago."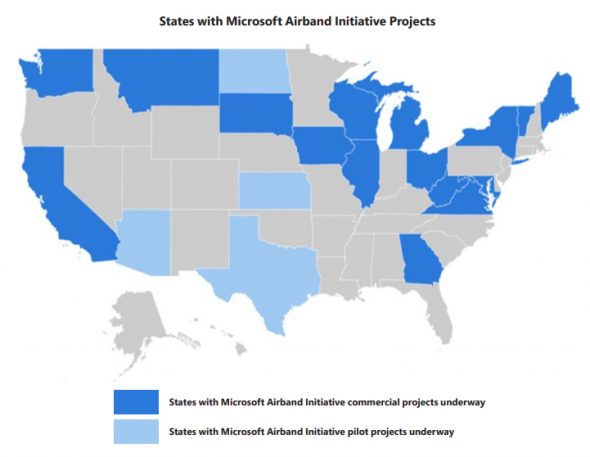 Flawed FCC Broadband Availability Data
In researching broadband availability, Microsoft learned that "the problem is bigger than we thought it was," Smith said today.
While the FCC says 25 million Americans lack access to broadband, including at least 19 million in rural counties, Microsoft said it has reviewed other data suggesting those numbers are much higher. According to Microsoft's estimate, 162.8 million people do not use broadband. It's important to note that just because a person doesn't use broadband doesn't mean he or she can't get it. But even after taking that into account, Smith's comments suggest the FCC data substantially underestimates broadband availability.
Other recent critics of FCC broadband availability data include the Center for Rural Affairs, the Government Accountability Office and others.
In a blog post, Smith said he was "encouraged by the recent strides taken by the FCC toward collecting better data," but did not elaborate.
Gung Ho on TV White Spaces
While some Airband deployments have entailed fiber, Airband has been largely focused on fixed wireless in the TV white spaces band, and at today's event, Smith argued that government policy should recognize that wireless solutions can be deployed more quickly than fiber solutions.
He pointed to previous technology deployments, noting that broadcast television was quickly available nationwide while cable TV quickly got to 70% and then hit a plateau. Similarly, wireless phone service was deployed much more quickly than traditional landline phone service.
Following that logic, he critiqued government funding programs that focus largely on fiber-based broadband.
"Are we content to focus on the problem with the expectation that it will take until [most] of a century to solve it?" he asked.
Although Smith didn't mention specific government programs at today's event, a Microsoft white paper references the FCC Universal Service/ Connect America Fund programs and the $600 million recently allocated to the USDA for rural broadband.
In the blog post, Smith said "[i]f the federal government reallocates just a small additional fraction of public money toward incentives for TV white spaces devices, it will help accelerate adoption, bring costs of devices down and help the ecosystem lift off."
Funding would not go to Microsoft but to "the telecommunications partners whom we are working to assist."
Smith did not share specific recommendations or dollars involved, but at today's event, he argued that TV white spaces deployments would climb if the cost of TV white spaces customer premises equipment could be driven down to $100. At that cost, he said it would be "economically feasible for an ISP to give a customer that device and amortize the cost."
Updated