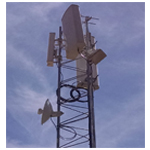 Microsoft and Declaration Networks Group are partnering on a project to bring fixed wireless broadband to 65,000 people on Virginia's eastern shore over the next three years. The Microsoft Declaration Networks deal is part of Microsoft's Rural Airband initiative, which aims to bring broadband to unserved areas of the U.S. within five years using a mixture of wireless and wireline technology.
Declaration Networks Group specialized in bringing broadband to rural areas using fixed wireless broadband. The company uses a combination of TV white spaces and other technology, which it sells under the NeuBeam brand.
TV white spaces technology uses vacant TV broadcast spectrum to support fixed wireless broadband service. That spectrum band has excellent propagation characteristics and unlike some wireless technologies, it typically does not require a clear line of sight between the base station and the customer.
Declaration Networks was a co-founder of the Air.U initiative to bring fixed wireless broadband to university towns and was responsible for Air.U's first deployment at West Virginia University.
Microsoft Declaration Networks Deal
The Microsoft Rural Airband initiative, announced in July 2017, set a first-year target to have 12 projects up and running in 12 states. Virginia is one of the 12 states targeted for the first year. Previously Microsoft announced it would work with Packerland Broadband on a project in Wisconsin and Michigan.
Today's press release about the Microsoft Declaration Networks deal did not specify what speeds would be offered. But I would expect them to be similar to the 25 Mbps downstream/ 3 Mbps upstream service that Packerland announced for its Rural Airband project.
Fixed wireless broadband deployments are likely to dominate Rural Airband, as Microsoft has said fixed wireless would be the most appropriate technology for 80% of the areas that the initiative targets. Microsoft helps fund Rural Airband projects but has not revealed details about the extent of that funding. The company has said, however, that proceeds from Airband connectivity projects will be reinvested into the program to expand broadband to more areas.
Rural Airband is part of a broader Microsoft initiative known as Tech Spark that includes digital transformation initiatives for local businesses, digital skills and computer science education for high schools, career pathways through community college education and support for non-profits.