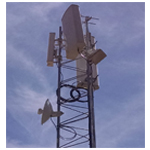 The two biggest winners in the Connect America Fund CAF II auction have joined the Microsoft Airband initiative, which aims to make high-speed broadband available to three million unserved people in the rural U.S. by mid-2022 – primarily through fixed wireless technology, particularly TV white spaces technology.
"We like to see that partners we work with are also getting access to federal, state and local funding," said Shelley McKinley, vice president of Microsoft Technology and Corporate Responsibility Group, in an interview with Telecompetitor.
CAF II TV White Spaces
The two big CAF II winners that have joined Airband are Watch Communications and Wisper ISP. Both companies, along with more than a dozen other CAF II winners, plan to rely heavily on fixed wireless for their deployments.
Wireless internet service providers (WISPs), as a group, won about $750 million in the auction – or about half of $1.488 billion awarded — and McKinley expects to see these companies using TV white spaces technology for some of their deployments.
Watch, Wisper ISP and some other CAF II winners using fixed wireless have committed to deploying service supporting speeds of at least 100 Mbps downstream and 20 Mbps upstream for some locations and 25/3 Mbps to others. TV white spaces technology already supports 25/3 Mbps speeds and could be used to serve locations requiring that speed. As for the 100/20 Mbps locations, McKinley said: "it will depend how fast TV white spaces can get to that speed."
TV white spaces technology uses vacant TV spectrum, which has excellent propagation characteristics and doesn't require line of sight, on an unlicensed basis. The technology is expected to get a performance boost if the FCC moves ahead with plans to allow operators to deploy TV white spaces equipment to use higher antenna heights and power levels.
"The higher-power transmission is important to send the signal farther and avoid interference coming out of any other channels," McKinley explained.
Airband Benefits
Microsoft works with Airband partners in a variety of ways, including providing expertise on TV white spaces and other technology, optimizing the partner's operations using Microsoft Azure and cloud services, assisting with marketing efforts, providing preferential rates on tower access, and in other ways, McKinley noted.
"It depends on what the partner needs," said McKinley.
As for CAF II winners, she said, "some CAF winners may need some money for some things."
Microsoft also helps ensure that once high-speed broadband is deployed, local residents use it – and use it effectively, McKinley explained.
"The project shouldn't end with connectivity," she said. "It's an enabler of other things around digital transformation and that starts with education."
McKinley pointed to telehealth, agriculture and small business as three areas that can benefit from digital transformation enabled by high-speed broadband.
Microsoft Airband Progress
Microsoft Airband now is in 25 states and one territory and is staging pilot programs in two additional states, McKinley noted in a recent blog post.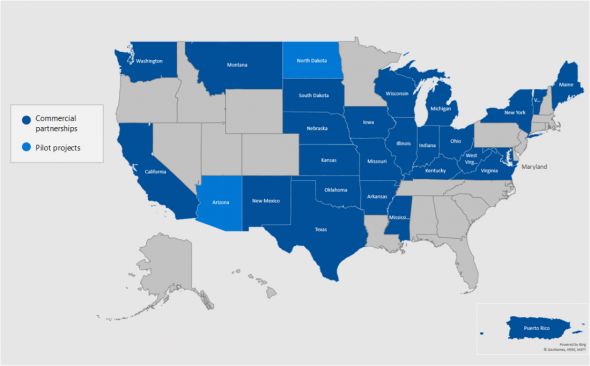 "We've already reached a total of 633,000 previously unserved people, up from 24,000 people in 2018," she wrote.
The fixed wireless ISP program that Microsoft established after Airband got underway also has seen strong growth. The program offers equipment discounts and support (although not the same level of support that Airband partners receive) and was established when the number of providers interested in Airband exceeded what Microsoft needed. The ISP program now has 434 participants, up from 230 when we spoke with McKinley just under a year ago.
Microsoft continues to believe that fixed wireless is critical to rapid broadband deployment in the rural U.S., McKinley said, adding that deploying fiber everywhere would cost too much and take too long.
Microsoft continues to explore other broadband technology options as they develop, McKinley noted. The company has looked at fixed 5G, CBRS and other alternatives, but has focused on TV white spaces because the company felt that the technology needed focus and investment, she said.
She added, though, that "If anyone has a good solution, we're game. We need everyone's creativity to solve this problem as quickly as possible."