As the Senate gets set for a hearing about broadband map problems, Microsoft offered its ideas about how to fix those problems in a blog post. Ideas include changing the questions that the FCC asks service providers on the form on which the map is based and cross-checking the service provider-reported data with other FCC broadband data. The company also reviewed how its own data contradicts the data detailed on the map.
Microsoft cites $22 billion in subsidies has been allocated to address the lack of broadband access in rural America, yet according to Microsoft, broadband adoption in these markets has "barely budged."
In December, Microsoft joined a growing number of parties that have found major flaws in the National Broadband Map, which was updated last year by the National Telecommunications and Information Administration based on data that the FCC gathers from service providers on Form 477, which the providers are required to file.
As Microsoft's Chief Data Analytics Officer John Kahan noted in a blog post yesterday, that data plays an important role in allocating funding through the Connect America Fund program, but it overestimates how widely broadband is available because an entire census block is considered to have broadband even if only one household in the census block can get broadband service. In some cases, a census block may be considered to be served if a service provider has said that it could easily offer broadband there, even if it has not yet done so.
"Getting these numbers right is vitally important," said Kahan in the blog post. "This data is used by federal, state and local agencies to decide where to target public funds dedicated to closing this broadband gap. That means millions of Americans already lacking access to broadband have been made invisible, substantially decreasing the likelihood of additional broadband funding or much-needed broadband service."
Broadband Map Problems
As Kahan explained, Microsoft identified problems with the national broadband map as it began work on its Airband rural broadband program, which aims to bring high-speed broadband to rural homes in parts of 25 states that currently do not have broadband available to them.
Microsoft has its own broadband data, which is based on anonymized data that the company collects as part of its ongoing work to improve the performance and security of its software and services. That data showed that 162.8 million people aren't using the internet at broadband speeds.
The Microsoft data measures usage, not availability, but if that data shows that no one in an area uses broadband, it's unlikely that broadband is available there. Maps included in the blog post indicate major differences between the FCC data and Microsoft's data.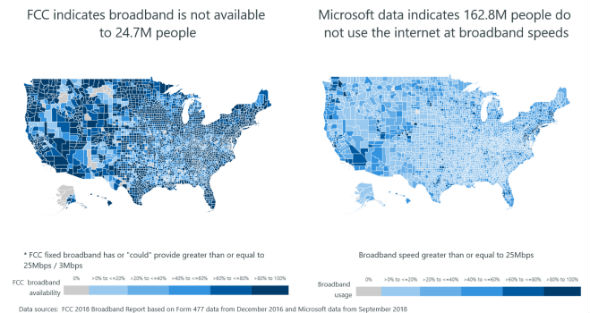 Microsoft's advice to policymakers is to eliminate the question on Form 477 that asks if a service provider could provide service to an area so that only services already available are counted. The company also advises policymakers to use both availability and actual usage (and/or subscription data) to guide investments and communicate progress in deploying broadband.
All this seems like good advice.
One thing not included in the Microsoft blog post, though, was a reference to at least two initiatives already underway to fix the national broadband map – one from the NTIA and one from service provider association USTelecom.  And with the Senate also poised to get in on the act, it seems like someone ought to be keeping track of what everyone else is doing to try to fix the broadband map problems.
Image courtesy of flickr user Sean MacEntee.