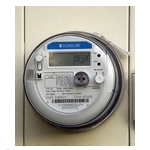 Michigan's Consumers Energy has chosen SmartSynch to provide the advanced metering infrastructure (AMI) for its smart grid and meter modernization program, which will extend across all its 1.8 million customers in Michigan, according to a Smart Meters report.
Consumers Energy, which supplies electricity to more than 2/3 of the state across a 32,000-square mile territory, is the largest utility to make use of a cellular-based communications system for the smart meter installation phase of its modernization program, according to the report.
"The advantages of utilizing existing cellular networks are now indisputable. Consumers Energy thoroughly evaluated and tested various technologies, and objectively chose our cellular model," SmartSynch CEO Stephen Johnston said. "Only cellular networks offer the bandwidth to support the smart grid applications of today and those that will inevitably surface as smart grid technology rapidly evolves."
Meter installation is slated to begin in August next year in Muskegon County. They'll continue through 2019. The utility is also evaluating installing communications modules on some 600,000 gas meters in areas where it provides both gas and electricity to customers.
"As we develop our program, it will allow us to offer new options to customers and allow them to use our system to integrate new technology – such as smart appliances and plug-in electric vehicles – into their daily lives," Consumers Energy president and CEO John Russell stated.