Silos, water towers, barns and other tall structures throughout rural Ogemaw County, Michigan are now documented in a database aimed at making it easier for internet service providers (ISPs) interested in serving the area to determine where they could locate rural wireless antennas and other equipment. The vertical assets database was created by the Ogemaw County Economic Development Corporation (EDC) in partnership with Michigan Works! Region 7B Consortium, the Ogemaw County Technology Planning Team and the Northeast Michigan Council of Governments (NEMCOG), notes non-profit broadband organization Connected Nation in a blog post.
"When the people are spread out as much as we are in Ogemaw County, it can be very expensive to bring service to a small number of people, so it is difficult to convince the companies to do build-outs here," Connected Nation quotes Mandi Chasey, director of business and economic services for Ogemaw County at Michigan Works!
Creators hope to change that with the database, which provides detailed answers to the question that potential ISPs invariably ask: What existing structures are available to install equipment on?
The availability of such structures can make or break a business case for deployment.
Structures for Rural Wireless Antennas
Work on the Ogemaw County vertical assets database began in October 2014 and according to Connected Nation, it was a "massive undertaking" that included a mail campaign urging residents to assess the heights of various structures across the area. A NEMCOG grant provided access to technology to map the assets after the survey was completed.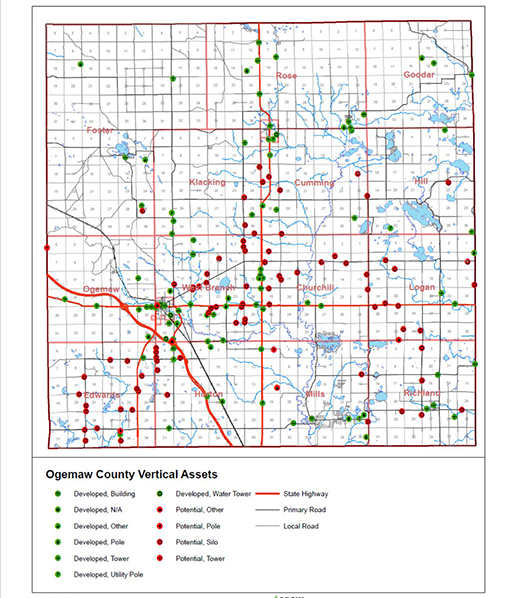 The blog post also notes that leveraging existing vertical assets could help minimize the need for new towers that might disturb the natural landscape.
News of the Ogemaw County database comes at a time when some stakeholders are expecting to see a boom in fixed wireless deployments. Carriers such as AT&T are planning to use fixed wireless to meet Connect America Fund broadband deployment obligations. And while some network operators previously only used fixed wireless in areas with a clear line of sight to the base station, that is expected to change by early 2018 when operators begin deploying CBRS band equipment that won't need line of sight.
Ogemaw County's vertical asset database also comes at a time when stakeholders are scrutinizing what can be done to simplify broadband deployment with the goal of getting service to more Americans. That was the motivation behind FCC Chairman Ajit Pai's recently created Broadband Deployment Advisory Committee, for example. Organizations such as Next Century Cities also have worked to identify and document effective policies and procedures for spurring broadband deployment.
Creating a database of potential locations for rural wireless antennas as Ogemaw County has done could be another idea to add to the list of best practices for broadband deployment.