Service providers recognize the benefits of fully automated and dynamic service delivery systems and are adopting the approach, according to industry association MEF. The association has been developing standards for application programming interfaces (APIs) to support automated services that involve more than one service provider.
The work is part of the MEF Lifecycle Service Orchestration (LSO) Sonata initiative.
According to MEF, the API standards will help streamline service provider business functions, improve operational efficiency and accelerate time to revenue. Sophisticated automation is important as new technologies such as blockchain and intent-based networking emerge as potentially valuable tools for service providers and their customers, MEF said.
There are 63 companies globally that are in production on or are committed to Sonata. Thirty – including AT&T, Zayo and Lumen — are in production. T-Mobile and Verizon are among more than 33 who have committed.
U.S. providers have moved a bit slowly on intercarrier APIs because they already use activation service requests (ASRs) when establishing services that rely on connectivity from other providers, noted MEF CTO Pascal Menezes in an interview with Telecompetitor.
Menezes added, though, that current ASR standards do not encompass all the capabilities that are encompassed in MEF standards, and he expects to see U.S. providers move to the MEF standards.
Service providers implementing standardized APIs can realize an average 25% reduction in order cycle times and quicker speed to revenue for each order enabled by an API based on MEF LSO standards, MEF said. LSO APIs in can be implemented in as little as three to five months with the help of LSO solution providers, the association noted.
MEF's inaugural "State of the Industry Report: Paradigm Shift – Automating Business Functions Between Service Providers" report looked at 47 service providers' attitudes toward automating business functions with Sonata APIs from both the seller and buyer perspectives.
Nearly 90% of service providers said that automating business functions using Sonata is "a must have" for selling services and 11% said it is a "nice to have" function.
When it comes to buying services, 41% said Sonata is "nice to have," 38% said it is "a must have," 15% were investigating or uncertain and just 6% said that it is unnecessary.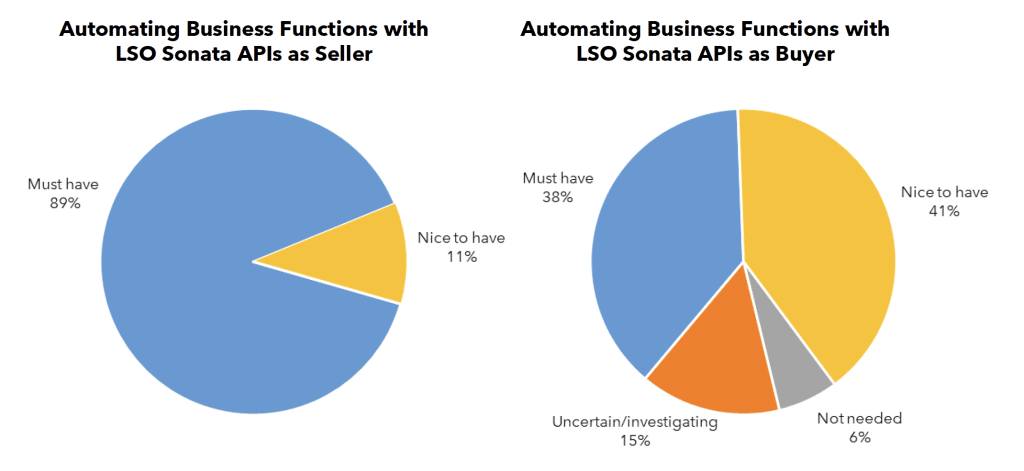 "Increasingly next-generation services like Network-as-a-Service (NaaS) solutions will be delivered across an ecosystem of many providers, from retail and wholesale service providers, to hyperscalers, to technology solution providers, and so on, and the networks supporting these services will be fully API-driven," said Menezes in a press release.
"For this to happen, standards-based automation is required throughout the entire supply chain where all parties adopt a common, standardized set of APIs at both the business process and operational levels."
Joan Engebretson contributed to this report