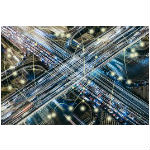 Two new initiatives from service provider standards organization MEF aim to streamline the process of establishing customer circuits that originate and terminate on different service provider networks. If this sounds familiar, that's because MEF has been doing a lot of work in this area.
The organization's E-Line standard jump-started the wholesale carrier Ethernet access market by simplifying the process of interconnecting circuits. The newest initiatives, centered on the organization's Sonata standards, aim to bring greater standardization to interconnecting back-office operations supporting E-Line and other services.
Sonata is a MEF initiative to standardize application programming interfaces (APIs) to enable service automation across providers and network technologies. The latest efforts on that front, announced today, include a pilot MEF 3.0 Sonata certification program for inter-provider service automation and the launch of Lifecycle Services Orchestration (LSO) Sonata software development kit (SDK) release 3 with APIs for inter-provider serviceability, product inventory, quoting and ordering.
"The ordering process is what Sonata is all about," explained Bob Mandeville, founder and president of testing company and MEF partner Iometrix, in an interview with Telecompetitor. While some service provider partners have automated the ordering process between one another, those automations were not standards-based, requiring a separate development effort for each new partner.
MEF Back Office Interconnection
As MEF Chief Technology Officer Pascal Menezes explained in the interview, MEF's goal is to enable a service provider's system to ask multiple partners whether they can provide service to a specific address and what type of service – carrier Ethernet or other – the partners have available at that address. The service provider also can obtain a quote and use that information to decide which carrier to use. Each service provider can choose whether to make information about potential suppliers available to end user customers or not.
The SDK is available on the MEF public GitHub. Moving forward, MEF expects to add functionality to the SDK to support capabilities such as payment and trouble ticketing, Menezes said.
The pilot MEF 3.0 Sonata certification program, which will be conducted in cooperation with Iometrix, will give participants the ability to certify MEF 3.0 carrier Ethernet E-Line access service and to develop and certify MEF 3.0 LSO Sonata ordering APIs.
Supporting the program will be what Mandeville called a "seller emulator" – a box that "represents all sellers that a buyer could buy from."
"The buyer just needs to test once and they're done," he explained.
For sellers, the process of becoming available on the global service provider marketplace also requires just "one simple step," Mandeville said.
Additional information about the two new MEF initiatives announced today can be found in this press release.
Also today, AT&T and multi-national service provider Colt Technology Services said they had completed the first successful application of MEF's LSO Sonata APIs. According to a press release, AT&T's global customers that have sites located in Colt's network footprint will be able to see service qualification and ordering times reduced from days or weeks to minutes. In addition, AT&T will receive virtually real-time updates from Colt's system to track the progress of the order.