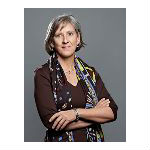 Keeping up with new mobile apps and Internet sites, what they do and what's popular is a daunting task. But one person who does a great job keeping on top of this is futurist Mary Meeker, who provided a wealth of valuable information about hot and emerging apps and websites in this year's edition of the Internet Trends Report that she creates annually for financial firm Kleiner Perkins Caulfield Byer (KPCB).  Even more importantly Meeker is able to identify broad trends underlying how end users use apps and what's driving shifts in user preferences.
The Hottest Mobile Apps and Internet Sites
Entrepreneurs who create consumer apps and Internet sites often do so because they are pursuing a personal passion, while those pursuing enterprise apps and sites often are seeking to address corporate pain points, Meeker observes.
Hot app categories on the consumer side include user-generated content, messaging and what Meeker called "freelance" platforms that enable end users to generate additional income. Hot sites for user-generated content include SoundCloud, which lets users upload music they have created; Wattpad, which lets users upload stories or other content they have written and user-generated live gaming and streaming site Twitch, Meeker noted. Messaging leaders in the U.S. include WhatsApp, Facebook Messenger and Snapchat. And hot freelance sites include Thumbtack, AirBnB, eBay and Etsy.
Some of the freelance sites are generating some serious annual earnings for those who offer products and services through them. On average, Thumbtack freelancers earn $8,000 annually and those using AirBnB earn $7,700. EBay and Etsy are less lucrative, generating $3,000 and $1,400 respectively, on average.
Young people 12-24 years of age remain the Trendsetters, Meeker notes – and which social network app or site they consider "most important" can shift substantially from one year to the next. Currently Instagram, cited by 32% of young people, is the most popular. Instagram also was the number one social network for young people last year at this time. But in the fall of 2013 Twitter was the number one choice and in the spring of 2013 Facebook was most popular.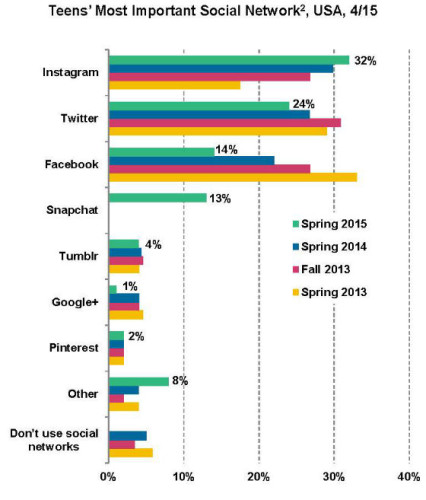 On the enterprise side, Meeker points to several notable apps or sites and the "pain point" each was designed to address, including: Slack (email), Stripe and Square (offline payments), Domo (business analytics), DocuSign (paper-based signatures), Intercom (customer communications), Zenefits (human resources), Anaplan (enterprise planning and performance optimization), Greenhouse (recruiting), Checkr (background checks), Envoy (visitor management), and GuideSpark (employee training).
Advertising and E-Commerce Trends
Other interesting observations from Meeker's presentation:
Meeker notes that small changes to mobile apps can dramatically boost app usage. She noted, for example, that when Snapchat introduced vertical video ads that display more easily on smartphone screens, the completion rate increased nine-fold.
Ad spending for new media, including the Internet and mobile, has not kept pace with usage. Although consumers spend 24% of their media consumption time on the Internet and the same percentage of time on mobile devices, spending on internet advertising represents only 23% of the total, and mobile advertising represents only 8%. In comparison, although consumers spend only 37% of their media consumption time watching TV, spending on television advertising represents 41% of the total.
First-generation online platforms were optimized for desktop Internet and traditional shipping delivery. But second-generation platforms are optimized for mobile Internet devices and on-demand local delivery.