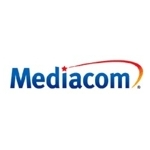 Middletown, New York based Mediacom, the nation's eighth-largest MSO, reported 2Q09 revenue of $364.5 million, 6% above its year-ago level.  Among the 2Q highlights noted by management: video revenues increased 2.8%, primarily due to digital customer growth and, to a lesser extent, higher service fees from advanced video products and services, including DVRs and HDTV. Mediacom added 8,000 digital customers to end the quarter with 658,000 customers, or a 51.3% penetration of basic subscribers. Year-over-year (y/y), they gained 69,000 digital customers, representing an 11.7% growth rate. However, Mediacom lost 15,000 basic subscribers during 2Q, a 1% year-to-year decline.
During their conference call, Mediacom executives outlined upcoming speed increases for some broadband offerings. Sometime in September, current 8Mbps service will increase to 12Mbps downstream with corresponding 1Mbps upstream. Additionally their current 10Mbps service will increase  to 15Mbps downstream and 1Mbps upstream.
So-called Revenue Generating Units (RGUs) grew 7,000 for the quarter and 168,000 y/y, or a 6% annual gain. On an actual basis, revenue for 2Q increased 4.3% to $364.5 million, operating income 11.1% to $77.1 million, OIBDA 5% to $136.8 million, and Free Cash Flow 480% to $31 million.
"In one of the most difficult economic environment in decades, Mediacom continued to produce solid financial results," chairman and CEO Rocco B. Commisso said.  "Our healthy growth rates in revenues and Adjusted OIBDA, along with tight control of operating costs and capital expenditures, enabled us to achieve record free cash flow. For the first half, we have already generated over $62 million of after-tax free cash flow – a five-fold increase from the same period last year – representing about $0.84 per basic weighted average share."
2Q09 Operating Highlights
Added 69.000 digital customers in the past year, an 11.7% gain
Phone customer base grew by 48,000 y/y in 2Q, bringing total phone customers 267,000, a 10.4% penetration rate
Thirty-six percent of digital customers subscribe to DVR and/or HDTV services as of end June
Added 6,000 high-speed data customers, ending 2Q with 754,000 customers, a 27% penetration rate of estimated homes passed
Total revenue generating units (RGUs) rose 7,000 (+0.24%) q/q, and 168,000 y/y, now totaling 2,961,000
Basic video subscriber base declined 15,000 in 2Q to 1,282,000, down 1.15% q/q and 1% y/y
High-speed data customers up 6,000 (0.08%) from 748,000 q/q and 9.5% from 689,000 y/y, now totaling 754,000
2Q09 Financial Highlights
Total revenue for 2Q increased 4.3% to $364.5 million
2Q net income of $34.406 million ($0.51 per share), up 64.4% from $20,932 million ($0.22 per share) y/y
High-speed data revenues up 12%, driven mainly by a 9.4% y/y rise in high-speed data customers, and, to a lesser extent, higher unit pricing
Phone revenues rose 27.6% driven primarily by 22% y/y growth
Advertising revenues down by 7.6%, primarily due to lower local ad sales, particularly in the auto segment
Total operating costs rose 5.6%, primarily due to increases in programming unit costs, as well as higher phone service costs