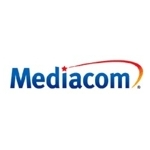 Mediacom has selected Waterloo, Iowa as its launch market for a new DOCSIS 3.0 (D3) powered 105 Mbps broadband service. "That will make it the fastest Internet service in North America," Lee Grassley, Mediacom's senior manager of government relations tells WCFCourier.com.
The 'Ultra 105' broadband tier will offer 10 Mbps in upload speed. Mediacom also offers a D3 powered 50 Mbps down/5 Mbps up broadband tier. The new tiers are scheduled to be available in late December. No word on pricing yet. Mediacom currently offers a 20 Mbps tier for $59.95/month.
The 105 Mbps tier nudges past Cablevision's 101 Mbps as the most widely known 'fastest' broadband speed. I say widely known because I'm sure there's probably a broadband carrier out there offering something faster, but lack the publicity.
These 100+ Mbps broadband tiers have been somewhat dismissed as more of a PR or marketing gimmick. Conventional wisdom suggests most consumers neither need nor can afford these packages. But as more and more carriers, particularly cable companies, push the 100 Mbps envelope, expectations for broadband speeds increase, particularly for their competitors.