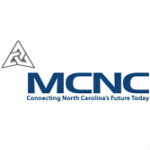 Many broadband stimulus winners have held groundbreaking ceremonies to launch their projects, but few have been as elaborate as the Statewide Virtual Groundbreaking Ceremony put on by Microelectronics Center of North Carolina (MCNC) on Friday.
The MCNC ceremony was hosted in four locations throughout the state using a high-definition simulcast that leveraged existing video capabilities of the North Carolina Research and Education Network (NCREN) operated by MCNC.
The event celebrated the construction start for an expansion of the NCREN that is funded, in part, through a $75.75 million award made in the second round of the broadband stimulus program. MCNC also won a $28.1 million award in the first round of the program to expand NCREN in other areas of the state.
"Today we can link several sites via HD video for a one-time event," said Joe Freddoso, president and CEO of MCNC, in an announcement of the ground-breaking ceremony. When completed, he said the network expansion "will allow us to host hundreds of these sessions simultaneously across the state. It will impact all facilities and institutions connected to NCREN. It will broaden the way teachers teach, students learn, doctors provide care, and for citizens at a local library searching to find a job."
MCNC is calling the NCREN expansion project the Golden LEAF Rural Broadband Initiative (GLBRI) because another $24 million of its funding came from the Golden LEAF Foundation, a non-profit economic development organization. The foundation is funded, in part from a 1998 Master Settlement Agreement with cigarette manufacturers and places special emphasis on assisting tobacco-dependent, economically distressed and rural communities across the state.
According to a fact booklet posted on the MCNC site, the total cost of the GLBRI will be $144 million, with an additional $8 million coming from an MCNC endowment; $4 million from a communications service provider, which apparently plans to use the expanded network; and $4 million in donations of land and conduit from colleges, universities and the Albemarle Pamlico Economic Development Corp.
The GLBRI project will reach many rural counties in North Carolina and is expected to create or save 2500 engineering, construction and manufacturing jobs in North Carolina. When completed it is expected to serve 1500 anchor institutions, 180,000 businesses and 300,000 underserved households.
The GLBRI network appears quite similar to the Mid-Atlantic Broadband Cooperative network —a Virginia network that was also built, in part, using funding from a settlement with tobacco companies and which is also being expanded thanks to a broadband stimulus award. The mid-Atlantic broadband network has helped bring jobs to rural Virginia and it would appear that the GLBRI network has the potential to achieve similar results.