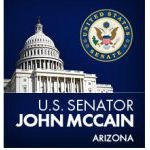 Legislation introduced yesterday by Senator John McCain (R-Ariz.) aims to give video service providers greater flexibility when purchasing programming from content providers by encouraging the unbundling of programming packages. If passed that would be good news for cable and satellite TV providers, who have complained that they are required to take unpopular TV channels that they don't want in order to obtain more popular channels.
According to an announcement of the bill, to be known as the Television Consumer Freedom Act of 2013, another goal is to "establish consequences" if broadcasters choose to downgrade their over-the-air service. The latter appears aimed at TV broadcasters that have threatened to move some programming only to paid TV platforms such as satellite and cable in response to the competitive threat posed by Aereo.
Aereo uses a distributed antenna approach to deliver over-the-air TV broadcast signals over the Internet. Unlike cable and satellite companies, Aereo doesn't pay retransmission fees to the broadcasters. Aereo only offers local channels to people in that local market. You can't get San Francisco channels in New York.
A third element of the bill would eliminate the blackout rule for events held in publicly-financed stadiums.
Programming a la carte
In a statement on the floor of the U.S. Senate introducing the legislation, McCain argued that content providers' bundling policies are "unfair and wrong – especially when you consider how the regulatory deck is stacked in favor of industry and against the American consumer."
McCain cited a recent Federal Communications Commission pricing survey that found that the price of expanded basic cable saw a compound annual growth rate of 6.1% from 1995 to 2011. In comparison, the most recent Consumer Price Index showed a 1.6% overall increase from the previous year. McCain said the cable cost increase has occurred, in part, because video providers sometimes have to purchase channels they don't want in order to obtain popular channels.
The Television Consumer Freedom Act would create disincentives for content providers that do not offer programming to video service providers on an a la carte basis. Certain regulatory benefits such as network non-duplication, syndicated exclusivity, blackout rights and retransmission consent options would be contingent on programmers offering content a la carte.
The bill also would allow programmers to bundle services in a package only if they also offer those services to video service providers on an individual channel basis.
In addition, the bill offers an incentive for cable and satellite companies and other video service providers to offer programming to consumers on an a la carte basis. If the video service provider does not offer a broadcast station and any other channels owned by the broadcaster on an a la carte basis, the video provider cannot rely on the compulsory license to carry those broadcast stations.
Good news for Aereo
McCain had harsh words for broadcasters that have threatened to downgrade over-the-air content (a threat that at least one broadcaster has made in response to Aereo).
"Our country is facing a spectrum crunch, and if broadcasters who are using the public airwaves in return for meeting certain public interest obligations are going to deviate from those obligations, it is my view that we should consider if that is the most efficient use of our country's spectrum," he said. "It would be a distortion of this social pact if over-the-air viewers were treated as second-class citizens."
Accordingly the bill provides a "legislative response" if broadcasters either downgrade their signal or pull it altogether, McCain said.