The migration to a 5G future is already underway and it's going to be different than previous wireless generation migrations. Much different. That was a key theme at Huawei's Mobile Broadband Forum (MBBF), held last week in Tokyo. Seizing the true business opportunity amongst the great hype machine generated by 5G will be paramount.
There was no shortage of hype for 5G in Tokyo, but also some sage advice for seizing a 5G future. That advice centered on a 5G strategy that must recognize the fundamental shift that 5G will create. This is not just another move between wireless generations, like 4G was to 3G. It's not just about faster speeds.
From Physical to Digital
Ken Hu, Huwaei's rotating CEO summed it up in this way: Fifth generation powered mobility is really about transforming the physical world into a digital world. Beyond the idea of giving mobile subscribers ultra-broadband access, 5G is about connecting people to things, people to things to people, things to things, and things to people to things. Indeed a 5G future is the true embodiment of the much discussed Internet of Things (IoT).
That will require a new approach to the network, featuring a software and cloud driven core and RAN, enabling the ability to rapidly turn-up, manage, and tear down services and applications, often without human intervention. The 5G opportunity for carriers lies in their ability to seize the IoT promise. They'll need a network up to the challenge. That new network investment will need to generate a decent return, requiring focus and execution beyond previous mobile generation driven business models.
Craig Ehrlich of mobile industry trade group GTI put this into great context during a keynote address. The transition to 5G for carriers must focus on finding new markets and maximizing business opportunities with IoT and industry verticals. Otherwise, it's all for naught.
"This is a warning we've had in our industry for years and we have some of the greatest companies in the world in terms of market cap who have really been riding on our coat tails, riding on our infrastructure for years and we've made very little money on it," Ehrlich said in an interview onsite in Tokyo. "We run the same risk of continuing that business model, so it's really essential that as the industry moves into 5G and then moves backwards to provide some of the new services that will be discovered into 4G, 3G, 2G, and to emerging economies, that we're getting a bigger piece of the pie, that is the biggest challenge for our industry."
5G IoT Applications
Some of those opportunities were on display at MBFF, including NB-IoT, robotics, smart and autonomous vehicles, drones, smart parking platforms, and virtual/augmented reality, among others. These and other applications will need to be exploited if the full promise of 5G is to be met.
The technical challenges are not insignificant. While true 5G is two to three years away, laying the foundation for it now is already underway. Several global carriers including BT, NTT Docomo, Softbank, and China Mobile highlighted their initial moves into 5G. Those moves include embracing massive MIMO and enabling 4G LTE dual connectivity, which will be required at 5G launch and beyond.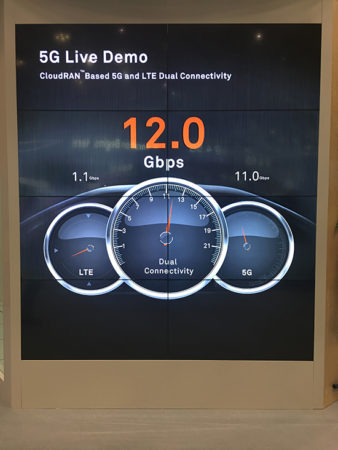 Huawei aims to be the dominant global player for 5G, even if they never 'break' into the U.S. tier 1 market. They introduced several new initiatives at MBFF to try to help capture that dominance, including X Labs, a R&D effort, and CloudAIR, a shared spectrum approach (or as Huawei explained, cloudification of spectrum).
Image courtesy of flickr user Stefano Brivio.