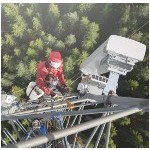 A lot of hopes are riding on the auction of spectrum in the CBRS band, which has a Thursday start date. The spectrum is considered mid-band – and industry stakeholders increasingly see mid-band spectrum offering the optimum mixture of bandwidth and coverage for 5G deployments.
Nearly 300 entities have qualified to bid in the auction, including all three major mobile carriers, as well as smaller mobile providers, cable companies, telecom companies, wireless internet service providers and others.
CBRS Auction Start Date
Perhaps no one has higher hopes for the auction than Verizon, which is light on mid-band spectrum holdings. But other bidders that have a lot at stake include incumbent telcos such as Windstream and Frontier that are expected to use any winnings to support fixed wireless service at speeds comparable to fiber broadband but with lower deployment costs.
Those companies have been struggling to compete with cable companies, whose infrastructure can more easily support high speeds, and gaining CBRS spectrum to support high-speed fixed wireless could be the telcos' most effective competitive response.
Cable companies including Cox Communications also are qualified to bid, and they may use spectrum winnings for fixed wireless deployments in underserved areas surrounding their traditional service areas. In addition, they may use winnings to support mobile offerings.
Cable companies already have entered the mobile market through a combination of their own Wi-Fi infrastructure and mobile virtual network operator agreements with Verizon. Those offerings, sold in service bundles, have been modestly successful, but have not yet been profitable and are not expected to be unless the cable companies obtain their own mobile network infrastructure.
Rural stakeholders also have big hopes pinned on the CBRS auction. Licenses will be for 10 MHz of spectrum by county, and the small geographic area was intended to encourage small companies that focus exclusively or primarily on rural fixed wireless to bid. Fixed wireless equipment for the CBRS band is expected to offer superior performance and better economics in comparison with many of today's options.
Another benefit of CBRS licenses is that an additional 70 MHz of spectrum in the band is available for unlicensed use and can be combined with license winnings to enable winners to expand either capacity or bandwidth or both.
By some estimates, the CBRS auction is expected to last at least two months with wide varying estimates of total proceeds, ranging from as little as $3 or $4 billion, up to maybe $10 billion.
Telecompetitor is eagerly awaiting the CBRS auction start date and to learning auction results when they are available, and we look forward to reporting to you about those results and other CBRS developments.