Industry Insight Series
In the past three years, home internet usage has skyrocketed as more people work from home, use new streaming services, engage in telehealth and online education, and adopt connected appliances like thermostats and refrigerators. As home internet usage rises, consumers are adopting higher speeds that leave them generally more satisfied with their internet.
With fewer customers left to reach with internet connectivity alone, Innovative Systems' 8th annual rural video and broadband industry study suggests that—within the realm of internet services—managed Wi-Fi may be the primary opportunity for broadband service providers. With plenty of room for growth and the promise of a positive customer experience, managed Wi-Fi will be a key revenue stream for expansion in the coming years.
The Saturation of the Internet market
The vast majority of internet customers are happy with their speeds, even if they understand speed more as a function of experience than exact Mbps or Gbps:
65% of residential internet users believe their speed is adequate
35% of residential internet users believe their speed needs improvement
31% of these users are willing to pay more for a higher speed
For Wi-Fi users, the satisfaction numbers are similarly high:
75% of fiber internet subscribers are happy with their Wi-Fi
57% of subscribers not on fiber are happy with their Wi-Fi
There's some room for growth in these numbers—particularly among the 31% of residential internet customers willing to pay more for higher speeds. But the gap between the number of satisfied customers compared to total customers is closing. In other words, more and more people are satisfied with their internet experience as it is, without any further changes or upgrades. As the percentage of customers who are happy with their speed grows, the opportunities for increased revenue among a service provider's existing customer base diminish.
Why Managed Wi-Fi is a key opportunity
While the internet market becomes saturated with happy users, the Innovative Systems study shows ample room and promise for growth for Managed Wi-Fi as an add-on to internet service:
35% of rural internet subscribers have Managed Wi-Fi
36% of rural internet users who don't have Managed Wi-Fi are interested in it
56% of current Managed Wi-Fi subscribers say it improves their internet experience (only 8% of subscribers report a negative experience with Managed Wi-Fi)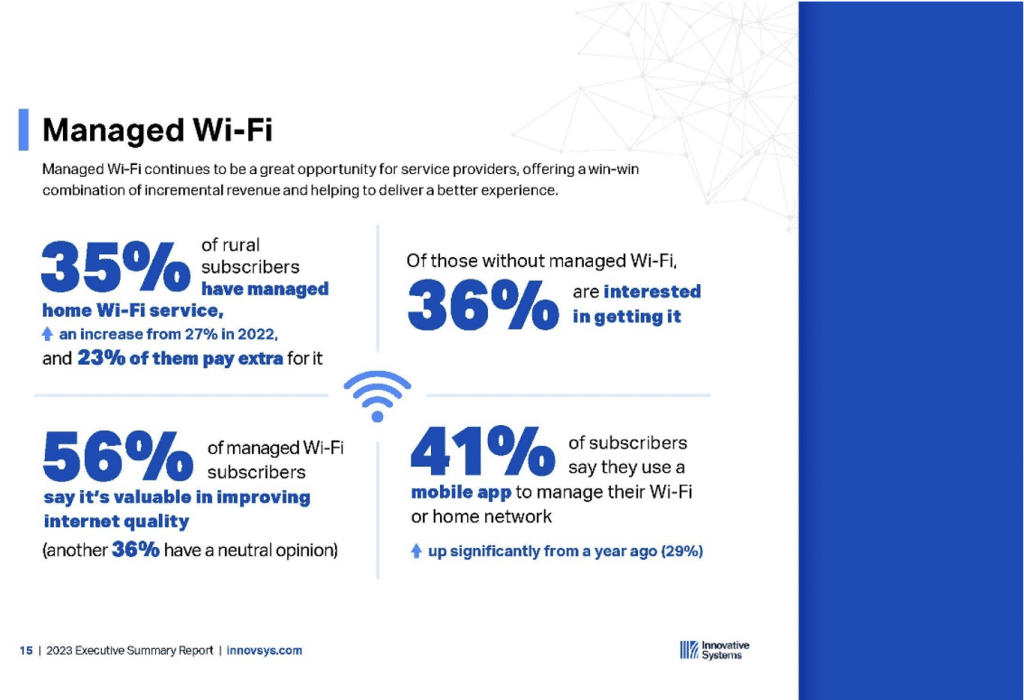 The growth opportunity for Managed Wi-Fi represented by these percentages is clear. Nearly two-thirds of rural internet subscribers don't have Managed Wi-Fi yet, more than half of those are currently interested in the service, and most people who do have it say it's a worthwhile investment. These numbers suggest that Managed Wi-Fi service can be a prime area of growth for broadband service providers—"a win-win combination of incremental revenue and helping to deliver a better experience," as the study says. Managed Wi-Fi will also have long-term effects; it helps increase the number of subscribers satisfied with their internet and Wi-Fi experience, resulting in customer loyalty and retention.
For additional insight, access Innovative Systems' full 2023 Rural Video and Broadband Report or part 1 in this Insight Series – The Ongoing Value of Video.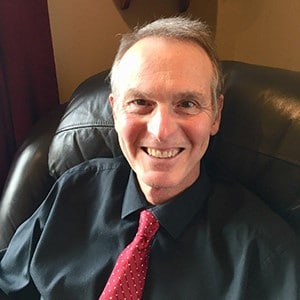 Scott Meyer, Director of Marketing
Innovative Systems
Scott has been involved in marketing for over 35 years, for the past 16 years as Marketing Director for Innovative Systems, where he has been helping service providers promote and sell Innovative Systems solutions to their end users.
This series features insight into important broadband industry issues from industry leaders.