Like other open access networks, the Downeast Broadband Utility open access fiber network aims to minimize the investment required for service providers to offer fiber-to-the-premises services by building a portion of the end-to-end network to act as a platform that multiple service providers can build upon.
But the Downeast Broadband Utility network, currently under construction in the towns of Baileyville and Calais, Maine, is using an uncommon approach.
It will deploy dark fiber to the home.
A more common approach to open access is to build a fiber aggregation network to connect one or more municipalities to the internet and to allow multiple service providers to use that network to backhaul traffic from their own access networks. We saw that model, for example, in "middle mile" fiber deployments funded through the broadband stimulus program earlier in this decade.
Maine already has at least one open access middle mile network. The Three Ring Binder network, which was funded in part through the broadband stimulus program, interconnects rural communities throughout the state.
But while the Three Ring Binder project may have enticed service providers to extend that network to individual homes and businesses in some communities, rural towns Baileyville and Calais were unsuccessful in attracting a service provider to make that investment.
"The project started with the discovery that we would have difficulty attracting new employers and to get young people to stay in the area without better infrastructure for broadband," said Julie Jordan, Downeast Broadband Utility director, in an interview with Telecompetitor.
When incumbent carriers said the population density in the communities couldn't support an investment to increase broadband speeds, "the communities agreed to invest in themselves," Jordan said.
The Open Access Fiber Network
According to Jordan, the open access approach was critical to gaining resident support, as residents felt they were at the mercy of one or two companies offering communications service in the area. Pricing was not competitive, residents felt.
"It was easier to sell the network to voters when we could say 'You can own it and it can be open access and you'll see better opportunities,'" explained Jordan.
Baileyville and Calais are separated by another small town but agreed to work together on the project. Organizers obtained a two -year letter of credit at a favorable rate through the Community Reinvestment Act and will roll that into a 20-year loan, which will be repaid through dark fiber leases, Jordan said.
Downeast Broadband Utility put out a bid to build the network, which was won by Pioneer Broadband, a company that had already deployed fiber in some other rural Maine communities.
"The design is a single fiber to each building in both towns to a headend, with some excess for growth," said Tim McAfee, Pioneer Broadband CEO and engineer. Two precast concrete shelters will serve as the headend and a co-location facility, from which providers will be able to light up individual fibers to individual customers. Service providers also will be responsible for gaining their own internet connectivity by, for example, using the Three Ring Binder Network.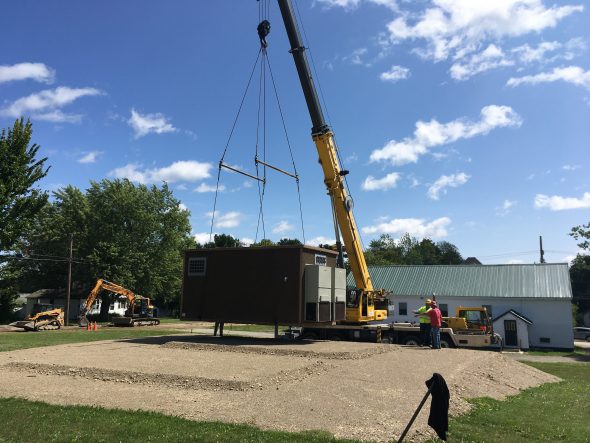 Potential service providers, including the incumbents, will be advised when fibers are available for use. McAfee said Pioneer intends to be one of the service providers.
Downeast Broadband Utility also plans to hire an operator to handle network management and interactions with service providers, but who that operator will be has not yet been decided.
Food for Thought
Although neither Jordan nor McAfee mentioned it, the possibility that incumbent carriers will be able to use the open access dark FTTP network could be one of the best ways of overcoming another issue that publicly-owned broadband networks often encounter – opposition from the incumbents.
Downeast Broadband Utility made what would seem to be another smart decision as well. The utility was established in a manner that will enable other Maine communities to join in the future – a provision that could prove to be important to rural Maine if the Downeast Broadband Utility project is as successful as Jordan and McAfee expect it to be.
Telecompetitor would like to thank Adtran, which will supply equipment for the Downeast Broadband Utility network, for bringing the project to our attention and facilitating our interview with McAfee and Jordan.