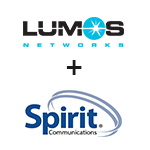 European-based investment firm EQT has completed its majority stake investment in Spirit Communications and announced today it will combine the regional fiber operator with Lumos Networks. The combination of Lumos and Spirit will be a super-regional fiber operator spanning from Pennsylvania to Georgia.
When EQT announced the investment in Spirit back in August 2017, we reported that their strategy appeared to be the creation of a large regional fiber presence along the U.S. east coast, given their acquisition of Lumos just six months earlier. That prediction has come true with today's announcement.
The combined Lumos and Spirit will operate a network of approximately 21,000 fiber route miles, constituting over one million total fiber strand miles. The combined network reaches 9,000 on-net locations, comprised of approximately 4,500 on-net enterprise locations and more than 4,500 unique contracted fiber to the cell ("FTTC") locations, according to the press release. The combined network also interconnects 44 data centers, 14 of which are owned by the carrier.
Lumos-Spirit
For now, the company will be known as Lumos-Spirit. "Right now, we're focused on integration and our customers," Will Davis, Senior Vice President of Marketing tells Telecompetitor in an interview. "For now, we're co-branding and any further name change is to be determined."
The combined company will also retain the legacy local exchange carrier assets of Lumos, serving western Virginia. At one point Lumos was trying to spin out the LEC assets as a separate company, but no more. "Those assets contribute significant cash flow, so it has been decided those assets will stay" Davis tells Telecompetitor.
"Spirit and Lumos have similar operating strategies, our fiber footprint is contiguous with very little overlap and we share the same tireless focus on providing an excellent customer experience," said Timothy G. Biltz, CEO of Lumos in the press release. "Quite simply, we belong together. We are excited that EQT had the vision to execute on its plan to create a platform that is, based on a number of metrics, the largest independent fiber bandwidth company in the U.S."
Blitz will serve as the CEO of the combined company, with current Spirit CEO Robert Keane and current Spirit Chairman Brian Singleton joining the combined company's board of directors. Spirit was formed by independent telcos in South Carolina and the original EQT press release regarding Spirit said those operators would maintain equity ownership in the network.
Jan Vesely, Partner at EQT Partners, hinted at this relationship today, saying in the press release, "We are very much looking forward to supporting the combined business in its ambitious growth plans and working alongside Spirit's Member Companies."
Regional Fiber M&A Activity
The Lumos and Spirit move highlights accelerated merger and acquisition activity among fiber network operators. Perhaps the most high-profile deal in this space is CenturyLink's acquisition of Level 3, but there is much activity on the regional fiber operator front.
FirstLight, which also operates on the eastern seaboard, has assembled a few networks through acquisition, and was recently sold to another European investor, Antin Infrastucture Partners. Uniti Group has also been quite active in regional fiber network M&A activity.